Ice Cream Truck Owner Charges Double For Influencers Asking For Free Food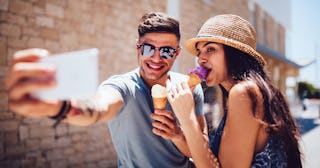 Getty/ wundervisuals
He wants people to know social media exposure doesn't pay the bills
One business owner is making a very public plea that regardless whether you're a social media "influencer," you are paying for your food.
Los Angeles small business owner, Joe Nicchi, owns a soft-serve ice cream truck and has influencers hitting him up on the regular for a free cone in exchange for a social media shout out. He didn't mince words for anyone asking: Influencers now have to pay double.
CVT Soft Serve wants you to know if you want ice cream, you're going to need to cough up the $4 he charges for one. Though if you're an influencer, now you have to pay $8. "We've decided to make this thing official with signage. We truly don't care if you're an Influencer, or how many followers you have. We will never give you free ice cream in exchange for a post on your social media page. It's literally a $4 item…well now it's $8 for you," the company wrote in an Instagram post announcing the new rates.
Nicchi says this isn't the first time he's shared his distaste for the influencer market. "The first 30 seconds of talking, they say 'Hey, I don't know if you follow me or not,' so they tell me their screen name and say 'If you want to hook me up with a cone, I'll post it to my story,'" he told Vice. "I'm like are you out of your mind? This is a $4 ice cream."
As the influencer market grows, it's fairly common for businesses to give away free food/swag/merchandise for "free" advertising on their social media channels. While it does help some obscure or little known businesses get attention, it can cause lost profits and the feeling that people are owed things because they have a large social media following.
Nicchi started CVT Soft Serve in 2014 to supplement his income as an actor. He sells his ice cream from a vintage 1960s Mister Softee truck and his menu is perfectly simplistic ― chocolate, vanilla, or a twist cone. He said he's constantly approached by social media influencers for free food and as a small business owner, he can't afford to give his food away for free.
So, when he received a request last week to do a party for 300 in exchange for "exposure," Nicchi told Vice, he snapped. He printed out a sign that said "influencers pay double. "I can't do that; I can't work for free," he said.
"We work a lot of these [food truck] events on the weekends, and I'm not going to sound like a douchebag, but we have really long lines," he continued. "It's evident that we're a popular business, but I've had many young Millennials who say things like 'I'm surprised that you only have 5,000 followers.' What does it matter? I have a line down the street. If Instagram went away tomorrow, I would still exist."