It's National Block It Out Day: Time To Show Your Kids How To Block Those Cyberbullies
by Melissa L. Fenton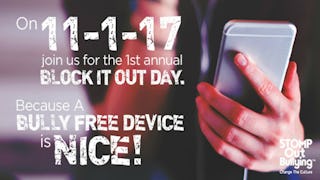 STOMP Out Bullying™
It's no secret that cyberbullying, especially among children and young adults, is rampant these days. And though it's clearly an uninvited byproduct of this tech generation with socially connected lives, it doesn't have to continue to be present where it's most certainly not welcome.
One of the best ways (if not the best way) to kick cyberbullying to the curb is to liberally use a little tool that we all have at our disposal, and to use it without even the slightest hesitation: the BLOCK button. It's the most effective way to stop the bullies right in their mean little keyboard tracks.
In an effort to get our youth to more eagerly block cyberbullies across all their social media platforms, the nonprofit STOMP Out Bullying™ is launching their inaugural National Block It Out Day (#BlockItOutDay) this Wednesday, November 1.
STOMP Out Bullying™ is the nation's leading anti-bullying organization, whose efforts seek to reduce and prevent online bullying in all of its forms. With the goal to eliminate digital abuse, they educate youth about homophobia, LGBT discrimination, hatred and racism, and promote online civility and inclusion.
According to cyberbullying statistics from the i-SAFE foundation, half of teens have been bullied online, and the same have engaged in it themselves. More than 1 in 3 have received online threats, 1/4 have been bullied through their cellphones, and over half of those who have been bullied never even mention it to their parents.
This is highly concerning, and parents/educators need to be on alert.
National #BlockItOutDay focuses on removing those unwanted and abusive people (and content) in our social media feeds by blocking them, thus helping to create a safer and more positive space for youth.
Ross Ellis, the CEO and Founder of STOMP Out Bullying™ hopes that by having a national campaign day to spurn youth to block out hate, it will start a chain reaction, and social feeds everywhere will become safer for everyone. She states, "We are asking youth to block the negative messages they receive from social media, create a safe positive online space, and ask their friends to do the same — creating a chain reaction. Our overarching mission is to turn a culture of cruelty into a culture of civility."
#BlockItOutDay is the perfect day to begin weeding out your social media feeds. When you and your children are ready to start removing the hate, make sure to visit STOMP Out's website for several easy-to-use tutorials on how to use the block features, which are available in all your social media networks. It's the perfect place to start.
What makes the block feature so effective? Ellis adds that when it comes to cyberbullying, completely removing the thorn in your side that is continuing to prick at you immediately removes the bullies' power. "When someone who is being harassed and trolled online, often and aggressively, continues to allow that harasser access to their social media, they willingly give their bully the power. This only allows bullying to continue. It takes bravery, but when a person blocks out their bully and asks their friends to do the same, they have the power to come together and create a ripple effect that erases the spread of hate and cruelty on social media."
Sue Scheff, author of the newly released book Shame Nation: The Global Epidemic of Online Hate and an expert in online shaming and hate, agrees. She says that having one day like #BlockItOutDay is needed, as many of us forget and continue to unintentionally allow bullies into our lives. "Curbing online hate helps builds civility, and a safer digital space for all of us," according to Scheff.
A safer digital space for our children and young adults is needed now more than ever before. Encourage your kids to take part in #BlockItOutDay and to tell their friends to do it as well. Make sure your kids know how/when to utilize the block feature and report any bullying to a trusted adult. Let's start an avalanche of ridding the internet of trolls, bullies, and shamers and reducing the negative affects of bullying on our youth.