Cyclist Attacks Child Posting BLM Posters On Maryland Trail
by Gina Vaynshteyn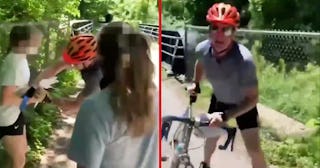 Victor Stoddard/Twitter
A few days ago, a cyclist attacked three people putting up Black Lives Matter posters, and the incident was caught on camera
UPDATE, June 6: Anthony Brennan III of Kensington was charged with three counts of second-degree assault on Friday, Maryland-National Capital Park Police's press release states. According to the release, police seized "items of evidentiary value" from Brennan's home yesterday, and Brennan later voluntarily turned himself in after a warrant for his arrest was issued.
ORIGINAL STORY:
On June 2, Maryland Police took to Twitter for assistance in helping identity a cyclist who attacked three people, including a child, for putting up posters in support of Black Lives Matter. The incident happened on the Capital Crescent Trail near Dalecarlia Tunnel in Bethesda, Maryland; and the tweet included several photos of the man, who is wearing a bright orange helmet and sunglasses.
The video of the assault, which seems to have been uploaded anonymously, shows the man turning around after a woman told him, "Leave me alone!" He then silently charged at a child, and as he comes closer to the child, the woman yelled, "Do not touch her! Do not touch her! She has nothing. Do not touch her!" Another male voice added "leave her alone!" but the cyclist continued to grab the child by the arm, ripping something she was holding from her hands, while both the woman and man (presumably filming) pleaded with him to get away from the girl.
"This got out of hand," the man filming stated, as the cyclist wordlessly grabbed his bike and then started charging at the man holding the phone. The video ends after the cyclist knocks the phone out of the victim's hand.
At the time of publication, the video has been viewed almost 25 million times and shared by thousands. Even Attorney General of Maryland Brian Fosh posted the video on his Twitter, asking the public to notify him if they recognize the cyclist. "If anyone can identify this man, please let me know (410-576-6300) and contact Montgomery County States Attorney John McCarthy," Fosh tweeted. D.C. Mayor Muriel Bowser also retweeted Fosh and asked Twitter to help the Maryland police identify the suspect.
While the cyclist hasn't been found, Twitter is on the case. Twitter user Mary Mulderrig identified the type of bicycle the man owned and tracked down where he might have purchased it.
One Twitter user suggested using the bicycling app Strava, because the cyclist may log his rides.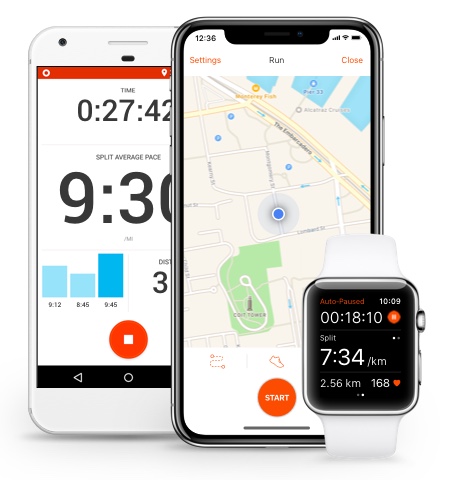 There's currently a strong lead, which Fosh posted to Twitter earlier today. Fosh asks Twitter to refrain from naming the individual in order to avoid "harm to innocent people."
People are urging Twitter to use their tech and resources to identify the man. Twitter has yet to respond. Hopefully, the cyclist is identified sooner rather than later.
This article was originally published on