Cynthia Nixon's 'Be A Lady' Video Nails The Endless Contradictions Told To Women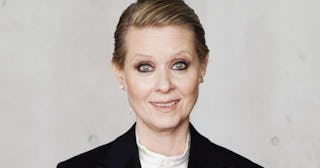 girlsgirlsgirlsmag.com
In a powerful new video, Cynthia Nixon captures the dizzying array of contradictions lobbed at women every day
Clear your schedule for the next five minutes, because we need to talk — and, more to the point, you need to watch. What? Well, Sex and the City alum turned politico Cynthia Nixon teamed up with Girls Girls Girls Magazine to create a video titled "Be a Lady, They Said!" And it doesn't seem like an overreach to say this should be required viewing for anyone who is a woman, knows a woman, or plans to co-exist in the same space as women. So, you know, everyone.
Since being released via Vimeo on Monday, the video has already racked up nearly 3 ½-million views (and climbing). For good reason, too. In the spoken-word piece, Nixon reads prose-poetry by Camille Rainville that articulates the conflicting demands placed on women.
"Be a lady, they said. Your skirt is too short; your shirt is too low. Don't show so much skin; cover up. Leave something to the imagination. Don't be a temptress," Nixon recites. "Men can't control themselves. Men have needs. Look sexy. Look hot. Don't be so provocative; you're asking for it." She continues, "Don't be too fat; don't be too thin. Eat up; slim down. Stop eating so much. Order a salad. Don't eat carbs. God, you look like a skeleton!"
And on and on it goes, capturing the near-impossibility for a woman in this day and age to ever meet the standards placed on us by society. As Nixon reads Rainville's words, stark imagery flashes on the screen: nudity, raw meat, scars, anal bleaching, young girls in full makeup and heels.
It's an intense audio-visual journey that unpacks the inherent hypocrisy of the phrase "just be a lady." Like, what even does that mean? As Nixon's video illustrates, it's a phrase rife with juxtaposition. Contradiction. Judgment. Misogyny. There's no way to "just be a lady," because what constitutes being one is a moving target with a bullseye largely painted on by people who are non-female.
Seriously, go forth. Watch it. But since the three-minute video moves fast, here's the full original text of Rainville's "Be a Lady, They Said" for reference.
This article was originally published on