Dad's Viral Photos Shows Exactly Why We Need Changing Tables Men's Rooms
by Cassandra Stone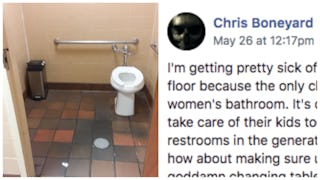 Image via Facebook/Chris Mau
The burden of public diaper changes shouldn't always fall on women and mothers
There's really no reason why all men's rooms shouldn't have changing tables by now, but alas — here we are. One dad took to Facebook to vent his frustrations about the lack of changing tables, and his post quickly went viral.
When you see the photos he posted, you'll know why.
Public restrooms aren't exactly any parent's idea of a sanitary place to change (or, in some cases, feed) your children, but when you're out and about and they've gotta go — to the bathroom it is. Babies need their diapers changed. Regularly. This burden usually falls on moms, because changing tables are predominantly found in women's restrooms.
Chris Mau, dad to 8-month-old daughter Kali, perfectly proves why this is complete bullshit.
"I'm getting pretty sick of having to change my daughter on a disgusting floor because the only changing table in the place is located in the women's bathroom," Mau writes. He says that there are "guys who take care of their kids too" — so why shouldn't they have a designated space to change diapers in public too?
Not every public space has a family-friendly bathroom with a changing table, either. He says he was out taking his baby for a walk sans car and the one bathroom in the area left no counter space or any other option but the floor — you can see he placed the baby on a blanket because public bathroom floors = BARF.
"If it's a public place with public restrooms in the generation of equality among genders and races then how about making sure us fathers can change our children's diapers on a goddamn changing table like the mothers can? Am I asking too much?"
Plenty of fellow parents shared their own frustrations in the comments of Mau's post.
Mau tells Scary Mommy that when his post began to go viral, he realized how commonplace the issue really is. "This opened my eyes that this wasn't some localized issue, this was commonplace worldwide," Mau says. "Parents are reaching out to me thanking me for the post and telling me how they too have faced this problem in both male and female restrooms."
He says he was surprised his post went viral so quickly, but he hopes the post will reach all the right people and that productive changes will come from it — other dads have had such luck, hopefully Mau will too.
"To have to form a last second plan for a diaper change in a public bathroom that decided not to install a changing station is unnecessarily unacceptable. It takes an entire village to raise a child."
This article was originally published on