Dad Encourages Little Girl Not To Give Up As She Reels In 5-Pounder With Barbie Fishing Pole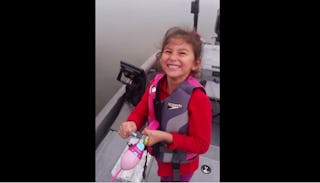 If you give a kid a fish, you feed her for the day. If you teach a kid to fish, you end up with a gigantic bass and an absurdly adorable viral video. At least that's what happened to one dad when he took his daughter out on a boat and she schooled us all in the art of supremely cute fishing.
Ram Mehta took his daughter, Avery, out for a fun day on the lake with her Barbie fishing pole. It was supposed to be your typical father-daughter outing, but what happened instead has the whole internet talking. Avery hooked an insanely huge, 20-inch bass and reeled the monster fish in all by herself while her dad cheered her on. Lucky for us, he also captured the moment in a video on his phone. Here's proud Avery reeling in her catch:
Mehta uploaded the video to YouTube where it's been viewed a whopping five million times. He also noted that the fish weighed over five pounds and that they released it back into the water alive.
There's a lot of reasons a video like this would go viral. It's a got an adorable kid, a loving dad, and it shows an afternoon spent enjoying the outdoors and doing an activity that's familiar from so many of our childhoods. I think what's most engaging about it, though, is watching Avery learn an awesome life lesson without even realizing it.
Throughout the video, you can hear Avery saying over and over again that the fish is too big and she can't reel it in by herself. Her dad encourages her to keep going, continually checking to make sure she's still got the fish on the hook and reassuring her that she can do it. Avery is elated when she finally gets the fish up onto the boat, not just because of its incredible size, but because she pushed herself and did something she didn't even know she could do.
In this age of helicopter parenting, it's rare to see parents let their kids truly test their limits and accomplish something all on their own. Mehta's video hearkens back to bonding experiences we had with our own parents, the first memories we have of feeling truly accomplished, and it reminds us of the importance of letting our own kids put themselves out there and see what they can do.
Plus, it shows us that anyone who can reel in a five-pound fish using a miniature hot pink fishing pole is kind of a rockstar. Good catch, Avery!