Holiday Gift Guide For The Kick-A** Dads In Your Life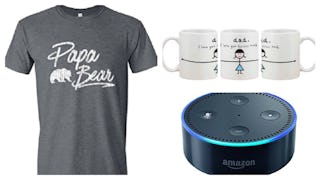 Walmart (left) / Walmart (top right) / Amazon (bottom right)
Hey all you fabulous moms out there, it's time to stop trying to make everything magical for the kiddos and get some gifts for the kick-ass dads in your life. The amazing fathers of the world need to be treated to some fun toys this holiday season. There is nothing like surprising your man with something special and unexpected this time of year. Yeah, they can be super hard to buy for and might even pull the ol' "Don't buy me anything, honey," but we know better.
Scary Mommy is making it easy for you. We've put together a list of our favorite gifts that we will be handing out to the men in our lives. Every item is sure to make them feel jolly AF. Especially No. 8.
This backpack is great for the gym and the perfect "man purse" to take along with the kiddos for a hike. It's sure to hold baby wipes, all their snacks, and drinks.
The Echo Dot is going to make his life easy, peasy. He can get the latest news and weather, and play his favorite songs while getting ready for work or making breakfast for the kids. It comes in a black or white finish and has great speaker quality. It really is a gift that keeps on giving — for the whole family.
Bacon jerky? Yes, please. You may just want to order two of these though. Once you taste the delicious jerky from Man Crates, you might be sneaking this for yourself.
What goes better with bacon than an ice-cold beer? But make it extra special with a sweet or sexy message on this classic beer mug.
We love wearing our special mama quotes on out T-shirts, and dads do too! This 100% cotton number is perfect for snuggling on Sundays.
This mug that's sure to be the sweetest thing he opens on Christmas morning. Have the tissues ready because he might even tear up a little.
The kids are going to be jealous of Dad's new toy. Because this Quadcopter can take pictures and be flown indoors or outdoors, it will certainly bring him hours of fun. The only problem here is keeping it away from the kiddos.
Stuff his stocking with these sexy time coupons. Not only are they sure to be his favorite gifts, he'll probably start trying to redeem them immediately.
This fast charger will back up his photos, contacts, and videos every time he charges his phone.
A wristband that will make getting his honey-do list done so much easier? Yes, please. No more dropping nails and screws. Surely, he'll want to fix and hang more stuff.
The Philips Norelco Shaver is great for long and short hair and can be used for a dry or wet shave. It also has a pop-up trimmer which makes it easier to get those sideburns hella sexy.
Dads and BBQ go hand-in-hand, so this grilling set is a must-have. The tongs equipped with a digital thermometer are a game-changer and take the guesswork out of grilling meat to perfection. Throw in this spice kit, and he is going to want to grill up a storm.
There's nothing hotter than a man who owns a tool kit and isn't afraid to use it. Get him excited to fix things around the house or start that project he's always talked about with this kit — they didn't leave anything out.
Dads love sentimental gifts too. What better way to express your love for the father of your children than to have them present him with this book. It's kind of like a sweet version of Mad Libs — your kids fill in the blanks about special qualities they see if their father or memories they've shared with him.
If you're looking to go all-out for the adventurous dude in your life, this watch is the real deal. It comes in a variety of colors and has a lightweight, sleek design.
So, sit back with a glass of wine, turn on the Hallmark channel, and get his wish list taken care of in one swoop. Holiday shopping has never been easier.
Editors may receive samples and/or a share from purchases made via links on this page. All opinions are our own.