Dad Thinks Of Best Way Ever To Keep Working Mom From Missing Their Baby
by Maria Guido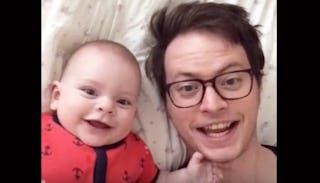 Dad chronicles first year of baby's life with Dubsmash compilation
Look at any working parent's phone, and you'll probably see a string of photo and video messages from their significant other. Little glimpses into the lives our little ones are living while we're away from them is what gets most moms through the day – especially when they're separated from their infants.
When Priscilla Bruce went back to work, her husband Eric thought of the coolest way to keep her feeling close to her child – by regularly sending dubsmash videos. Dubsmash is a video messaging application that lets you choose an audio recording our soundbite from movies, shows, and music and record yourself dubbing over that piece of audio.
It's golden. Especially when you feature an infant – in this case, little Jack Bruce.
"It was hard to go back to work at first, I missed him so much," Priscilla told Scary Mommy. "We had a rough birth process and some minor surgery right in the beginning (pyloric stenosis). These made it easier to be away at work and they're both so happy – they're best buds." The couple has opposite schedules: Eric works full time weekdays at a museum and Priscilla works evenings and weekends doing hair and makeup at the opera. Any parents who've juggled full-time jobs while trading off childcare can appreciate that feeling of "missing" something when you're not home. This is such a cool way to make a working parent feel "home."
Jack is now one and is the Minneapolis couple's first child. "Now that Jack is older, he is starting to get the idea and loves re-watching them and dancing," Priscilla says. He's not the only one that loves them: Eric started making more and more of them after he posted a few to Facebook and his friends began requesting new ones. "The video started because I posted the Adele clip to Facebook, and my friends asked if there were more. I convinced Eric to patch them together."
They've already started working on next year's edition. Can't wait.
This article was originally published on