Dad's Hilarious Narration Of Daughter's Makeup Tutorial Goes Viral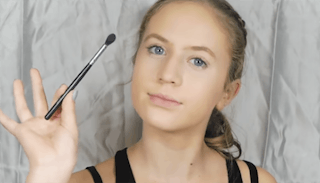 Her dad has no clue about her makeup — and that's what makes it great
YouTube makeup tutorials are everywhere these days and while helpful, most of them aren't exactly entertaining. That's all changed now that one beauty vlogger let her dad narrate a recent video.
Because it's freaking hilarious.
Megan, of YouTube channel Meggs and Bacon, dedicated her latest video to an "everyday" makeup look but instead of the usual routine of providing the voice-overs herself, she had her dad help out. We can try to explain how hysterically funny it is, but you should probably just watch.
Like any savvy makeup wearer, Megan starts off with a facial primer, and her brand of choice is budget-friendly E.L.F.
Which her dad helpfully notes is made "from the sweat of elves."
And so it begins. Over three minutes of Megan's dad poking fun at her beauty products and providing mostly clueless (and always hilarious) commentary about her process. His next target is the beauty blender she uses to apply foundation, which her dad calls, "a little egg that's squishy." He describes her method of dotting the base all over her face as "dab, dab, dab," which I plan to say out loud to myself from now on while putting on my foundation because it's super fun.
He then mocks his daughter for using "a very expensive brush. I could use any brush, but I like this one because it makes me look fancy," as she continues to blend her foundation. Next comes NARS concealer, or as good old dad says, "the Pocahontas gel." Megan uses it to give herself a little contouring, or "war paint" as her helpful narrator calls it. He explains that the three lines she draws between her eyebrows are marks representing "health, wealth and happiness."
And it only gets funnier from here.
Megan busts out her Too Faced highlighter, and her dad has ideas behind its purpose saying, "If you don't have enough face, this will give you a little bit more face."
Not quite. But we're giggling.
As Megan applies brow gel, her dad says, "I don't like the eyebrows I was given so I'm drawing these in a little bit darker." She takes out her Naked eye-shadow palette (with dad momentarily panicking at the word "naked" before realizing it's only eye makeup) and he immediately notes that she seems to only use one of the dozen shades. "This is a very expensive palette and I only use a couple of them, but don't tell my dad because it's kind of a waste."
Um, confession? I own that very palette and have discovered since purchasing that I only use three or four of them. Right there with you, Megan.
Dad snarkily points out as his daughter uses blush and highlighter to amplify her cheekbones that they were visible before she put all that makeup on, and now, she has to highlight them again so they show. Touche, dad. Touche.
He finishes up by suggesting that the setting spray she uses after applying all that makeup is actually to cool her off, and that's where the video ends. But we're still laughing.
Besides his obvious comedic chops, what's really on display with this guy teasing his daughter's elaborate makeup routine is their fun relationship. Megan, we hope you loved your dad's narration as much as we did, because we'd love to hear his take on demonstrations of your other looks.
This article was originally published on