This Speedo-Wearing Dad Picking Up His Son From School Is Our New Hero
by Valerie Williams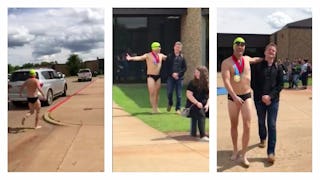 Image via Facebook
He picked up his teen wearing nothing but a Speedo and a smile
After all the thankless grunt work, one of the biggest perks of parenting is eventually getting to embarrass our kids. After all, they spend the first several years of their lives embarrassing us; it's only fitting we get our revenge.
One dad made that revenge happen in the most perfect way possible and we all need to take notes.
Oklahoma dad Justin Beadles got a text from his son to pick him up from school. Ever the dutiful parent, he complied — in completely legendary fashion. The video of his little surprise has gone viral, and it's easy to see the appeal.
Beadles comes speeding through the car lane on foot, running toward his teen son, wearing nothing but a Speedo, a swim cap and a bunch of fake medals. Dude didn't even have shoes on. That's because according to KOCO News, the dad was dressed up as Michael Phelps and the special occasion was his son's last day of school.
Horns honk like crazy as he makes his way through the crowd of high school students and parents in their cars on his quest to find (and totally humiliate) his kid. He's shouting his name, arms wide open, much to his son's horror.
After finally reaching him, Beadles puts an arm around his teen and they walk together toward the car, with Junior's face a blend of "God please let the ground swallow me whole right now" and "whatever dad, just drive me home." Although you can see a hint of a smirk behind all that sweet, sweet mortification. We get the feeling this isn't the first time his dad has done something totally ridiculous in a bid to embarrass him.
But it's hard to believe Beadles will ever top this epic prank.
The video is now at over 22 million views because it's not only hilarious, it's downright inspiring for those of us who have yet to reach the tween and teen years when our kids go from thinking we're the best thing since fidget spinners to being embarrassed by our very existence.
I've already sang animatedly to Britney songs behind the wheel while sitting in the car line and danced to "Thriller" at the elementary school Halloween party, but my antics are nowhere near Beadles' caliber and my kids aren't old enough to be horrified by me.
Yet.
You better believe I'm bookmarking this video as an idea to consider down the road, because it's simply the best. Kudos to this dad for giving us all some serious parenting goals.
This article was originally published on