Stepdad Commemorates Little Girl's Christmas Meltdown With Savage Ornament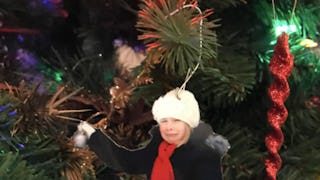 Image via Reddit/dirty SOB
There's no such thing as "picture perfect" family holiday fun
Christmas season is meant to bring out the best in everyone, as we gather together around the tree and the dinner table to celebrate friends and family. Unfortunately, the stress of the holidays sometimes gets the best of all of us. Especially parents.
When you have young kids, Christmas is a particularly special time… except when it isn't. The trick is to keep a sense of humor about it all.
No amount of tidings of comfort and joy can make a photo session with children any fun, but one parent found a hilarious way to both reminisce about a particularly tough shoot, and get a little revenge on his stepdaughter at the same time.
Reddit user Dirty-ol-sob shared a photo a Christmas ornament he created to commemorate the meltdown his stepdaughter had during a family photo session a few Christmases ago.
It's a pretty savage move, displaying the little girl's tears for all to see on the family Christmas tree. He explained his motivation in the comments.
Just as most parents probably suspected, the photo is of another typical day in the life of a 6-year-old.
That didn't stop a bunch of commenters from bashing the photo and taking uncalled for shots at the poster's step-dadness.
As usual, the internet is making a fair amount of leaps into outrage here, instead of accepting it as a lighthearted joke from a fed-up parent. Meltdowns like that are a dime a dozen, and parents occasionally get fed up, especially when they occur during the holidays, when everyone is supposed to be happy and loving and grateful. Even more especially when they occur during the festive and fun tree trimming!
Nobody blames kids for being kids! That the family has made it into a kind of tradition, hanging the ornament every year the same way many of us hang the crappy ornaments our kids made in second grade, speaks to a pretty healthy sense of humor. One the dad stepped in to defend.
The fact that the ornament itself is a picture of a girl literally hanging an ornament makes it kind of meta, and even more ridiculous.
Hopefully this year he gets a picture of his stepdaughter hanging the ornament that has a picture of her hanging an ornament on it. If they keep it up, in a couple of decades they can have a Christmas tree festooned with a fun-house mirror of ornaments showing her hanging ornaments until just looking at the tree gives you vertigo.
That will definitely be funny.