Dad's 'Report Card' For Daughter With Autism Goes Viral Because It's The Sweetest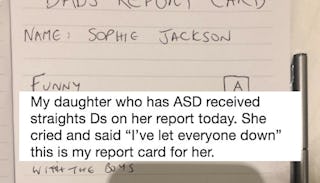 Image via Twitter/ShaneJackson
His daughter was upset after receiving her original report card from school
After seeing how upset his daughter was after receiving the report card she got from school, one dad took matters into his own hands to cheer her up. And now it's going viral on Twitter — because it's the sweetest, most "Dad" thing ever.
Shane Jackson's daughter Sophie is autistic. Recently, Sophie came home from school crying because she received Ds on her report card — so Jackson did what any loving dad would do. He made her a new one.
"Dad's Report Card." Omg, my heart. Naturally, in this newly "revised" report card, Sophie is at the top of the class. Her dad gave her straight A's in everything from being funny, having imagination, "drawing and making robots," and — of course — being the "best daughter ever." See? Sweetest. Thing. Ever.
I'm not crying, you're crying. In a follow-up tweet, Jackson says Sophie was "so upset" because she had tried so hard in school. "It was all I could think of to help the situation, and it worked."
People everywhere quickly hopped on board the Shane Train (you're welcome for that) by sharing their support of the dad/daughter duo.
Jackson says he shared the viral response with Sophie herself, and says she "feels so supported" in the Twitter world. He says she loved the response so much, he created her own Twitter account for her where she can share her love of art.
One of the first things she shared is her own "report card" for her dear ol' dad.
She gave him a "B" in "funny." She might be new to Twitter but she's definitely not new to the art of roasting. But of course, he got an "A+" where it counts — being "the best dad ever."