Hilarious Craigslist Ad Trying To Sell The Family Car Goes Viral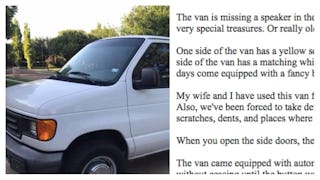 Image via Craigslist
You'll be in stitches after reading this dad's hilariously in-depth Craigslist ad
A father of nine from Texas recently posted an ad on Craigslist to sell his family's 15-passenger van, and the ad is going viral. Why? Because it's the most candid, real AF, no-holds-barred description of what happens to all family vehicles, and it's a must-read for parents everywhere looking for a laugh.
The ad begins by saying the 2005 Ford E350 XL is going for just $3,800 — and while it's currently clean, and in decent enough condition to sell, there are, uh, things potential buyers should know about said van prior to purchasing.
Buckle up, because this beaut has lived one hell of a life.
"The van is missing a speaker in the side door," the dad shares in the ad. "My kids have been throwing random items in the speaker hole for years. So, you may end up with some very special treasures. Or really old chicken nuggets. Probably both."
"One side of the van has a yellow scuff mark on it," he writes. "That's courtesy of me and a battle with a yellow concrete parking divider (I did not win)."
He says he and his wife have used the van for about a decade, and that while they're a "lovely couple," they're not the best drivers. He also discloses that the automatic door locks no longer work. "Rather than taking the van to a repair shop like a normal person I duct taped the button down to keep the motor from running," he writes. Eventually, the duct tape failed and the locking motor burned up. "Anyhow, the automatic door locks don't work. Each door must be locked and unlocked manually. Duct tape is not included."
If he doesn't sell this van, maybe he can win a prize for the Most 'Dad' Thing Ever Written In Recorded History, because that little paragraph was surely it.
He also doesn't beat around the bush about what an 11-person family can do to a vehicle in 10 years — and he's talking about more than just mileage. "Every one of our children has thrown up in this van at some point in the past decade," he says. "We have had the van detailed a couple times since then. The van is clean now; but, it will probably always be inhabited by the ghost of vomit past."
I'm pretty sure our own family truckster will be haunted by the ghost of Dum-Dums sticks past. And Goldfish. Dear God, the Goldfish. When it comes to the van in question, however, the automatic windows actually work. But the air conditioning does not. Sort of.
"It works fine until you accelerate past 45 miles per hour. After that, the gas pedal essentially functions as an on/off switch for the air conditioner. Accelerate = AC off. Decelerate = AC on. I don't understand why. But, then again, as you've probably gathered by now, I don't understand most things about cars."
What's amazing is that this ad probably really did help the dad sell his family's well-loved, well-lived van, according to an update he wrote.
"I've loved reading your many emails, responses, and commiserations," he wrote. "Solidarity, fellow parents and vomit van drivers. I do think the van is sold (surprising me and likely all of you)," he shares. "My apologies if I don't respond to your inquiries in a timely manner. Again, thank you for all the wonderful responses. It's nice to know that we're not alone in our smelly, intermittently cooled world."
LOL. Bless this dad's heart for being completely candid and giving parents everywhere a much-needed chuckle.
This article was originally published on