This Sneaker Collection Is Every Dad Ever
by Cassandra Stone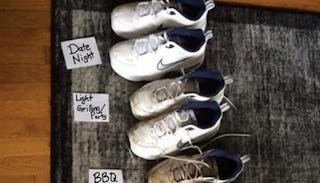 Image via Instagram/Anthony Adams
White sneakers are basically synonymous with the word 'dad'
A "dad shoe" is a very specific kind of shoe. While there are a variety of shoes that give away the fact that a dad is, well, a dad, the Dad Sneaker is perhaps the most recognizable of them all. When out in the wild, dads can be singled out almost instantly by the white socks, white ankles, and white shoes all happening south of their shins.
Which is why this dad's Instagram photo of his sneaker collection is the most amazing thing you'll see today.
Anthony Adams is a retired NFL player and current sports commentator. He is also a dad. As evidenced perfectly and succinctly by this photo, where he proudly shows off his "shades of shoes."
"I'mma go wit shade 2 today," he captions the photo. DYING. DEAD. Because if you don't know a dad in your life with a similar sneaker structure, are they even really a dad?
He's not wrong — shade two is excellent for light grilling. Minimal footwork necessary when it's just you and your wife and kids, so you don't have to worry about scuffing up those fresh white sneaks.
While the white shoes — Nike, New Balance, you name it — are synonymous with All Things Dad, so are these bad boys.
Now these only come in two shades: "Tinkering In The Garage" and "Going To Olive Garden." But you'd be hard-pressed not to find some variation of these brown, athletic-y loafers in any dad's shoe collection.
Either way, both sets of these shoes are the epitome of every dad ever. Now shut that door already, would ya? What are you trying to do, air condition the whole neighborhood?