'DaddyOFive' Loses Custody Of Two Children Featured In Prank Videos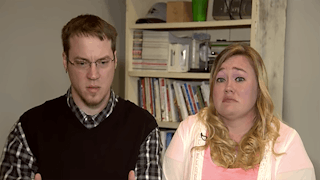 Image via YouTube
"DaddyOFive" loses custody of two children
A father has temporarily lost custody of two children he constantly featured on his YouTube "prank" channel. His YouTube handle is "DaddyOFive," and he may be the most hated father on the internet.
Mike and Heather Martin man the YouTube channel, which features videos of their kids being consistently and cruelly "pranked." The Martins have a blended family and the videos feature all the kids; Mike's son Cody and daughter Emma, and Heather's three sons. Mike's son Cody, however, always seemed to bear the brunt of the cruelest pranks. In many of the pranks the family gangs up on Cody, or the parents are seen screaming obscenities at the child. In one they destroy some of his electronics while he looks on — crying and red-faced. He never looks like he's having fun with these pranks, probably because there is nothing "fun" about them. They are abusive as hell.
The Channel has over 750,000 followers, and if you watch any of the videos, the fact that this channel is so wildly popular will probably make you want to toss your computer out the window. According to New York Magazine, the couple made approximately $200,000 to $350,000 annually from the channel.
Let that sink in for a minute. Six-figures for harassing and abusing their kids on camera.
After a few posts written about the channel went viral last month, the Martins responded with a video about "haters" — in which they absolutely stood by their actions and their pranks, claiming that anyone who looks at the abuse and has a problem with it is just "jealous." They also claimed the criticisms were just hurting their children more. "This is how we run our house. This is our family," Mike said in the video.
They've recently changed their tune, as the mother of Mike's children has come forward requesting custody of the children. According to The Independent, Rose Hall has obtained emergency custody of her two children. "They're doing good," Hall says on a video where she appears with her lawyer. "They're getting back to their playful selves."
The Martin's posted an apology video, where their demeanor is drastically different than it has ever been. There is even some crying — on their part for once, not their kids'. We're not linking it, because it's already been viewed almost two million times, and the thought that they're even making money off this is just too much to bear. But here are some screenshots and some of what they've said:
"This has been the worst week of our life and we realize we've made some terrible parenting decisions," says Heather.
"During this week we've had a lot of time to stand back, to jump out of character, and to see what we've done and to see how we've come across, and I understand how everyone feels," Mike says.
OH, REALLY? Because this is what you said last week:
Also this:
"I acknowledge and I respect how everyone feels about this. I do agree that we put things on the internet that should not be there…" Okay, then why have you just set the videos to "private" and promised your fans they would be back? Maybe because you are full of shit? I don't know, just brainstorming here.
You've made hundreds of thousands of dollars off publicly abusing and humiliating your children — and now you're making more money off your apology. Why not post it to Facebook? Maybe because the returns are higher on your YouTube channel? Wouldn't want to miss a chance for those sweet, sweet views. Cha-ching!
"Upon reflection, we realize there were mistakes made that caused our family some pain; we offer our most humble and sincere apology to those we negatively impacted and offended, particularly our wonderful children, " the Martins claim in a statement under their apology video. Really? You realized all of that in a week? You've been combatting the criticisms of your videos since you started airing them. Videos that feature things like you shoving your son's head into a bookcase causing him to bleed from the face, encouraging your older sons to punch and kick Cody, and prompting your kids to smack each other across the face. In that video you said, "You should never, ever hit a woman, but this is your sister, so it doesn't count."
"Hall, who lives in North Carolina and had custody of Emma and Cody until 2014, alleges that the children were taken from her illegally and unfairly, and that the Martins forged paperwork from her granting them permanent custody, and used intimidation tactics in the ensuing custody battle," reports New York Magazine. "Hall also alleges that she made Maryland authorities aware of the DaddyOFive channel in October, though Maryland CPS has claimed that they were unaware of the videos until the scandal broke. Detective Drew Robinson at the Martin County Sheriff's Office in North Carolina confirms that a police report including the videos was filed on October 17, and says the office passed the information to Maryland authorities."
Rose Hall also uploaded a video about the current state of custody in which she appears with her lawyer, which begs the question, "Can you all step away from YouTube?"
'The kids are in a deprogramming sort of mode in the moment,' said her lawyer. The pair thanked the viewers who were persistent in reporting the Martin family.
Hopefully, the kids will get the help they need to fully process what they have endured.
This article was originally published on