The Importance of Dads Stepping Up Around the House: #SwifferDad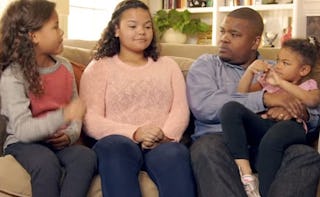 Do I want them to get good grades and have a full plate of activities so that they get into a good college?
Do I want them to become highly successful doctors and lawyers or to make lots of money in a field that they choose?
When I think deeply about all of this, I quickly realize that success doesn't lie in any of that stuff. Ultimately, I want my kids to feel important and engaged. I want them to have healthy relationships that inspire and encourage them.
Through the course of fatherhood I've realized that one of the most important things I can do is model healthy relationships for my daughters. How my wife and I navigate the world together will influence what my daughters look for in their relationships. Therefore it's critical that we show them a strong partnership in our house. A partnership can, of course, come in many different forms, and it has different definitions for many. For me, it starts with the simple day to day things around the house.
This is why I was excited to partner with Swiffer and other dads on the #SwifferDad campaign. On a very literal level, I'm a huge fan of the Swiffer WetJet because my kids and I think it's fun to use (we over spray…so much fun) and it makes cleaning our floors fast and easy.
On a larger level, though, I think the campaign is important because it features families that are modeling healthy partnerships for their kids. Cleaning up around the house isn't mom's job. It's the family's job to take pride in the household. And more and more, dads are stepping up to show kids that it's all hands on deck when it comes to managing the day to day responsibilities that come with a growing family.
Check out the #SwifferDad video above with myself and some great dads that I've gotten to know over the last few weeks. Also, check out the interview video with Anthony Anderson, who was the creative director on the project. Anthony is the star of one of my favorite shows, Black-ish. He's also an involved father who takes his role in the partnership of parenting very seriously.
I was compensated for participation in the Swiffer video campaign, but all thoughts are my own and I never work with or promote companies that are terrible so it's all good. This post originally appeared on Playground Dad.
This article was originally published on