Dan Levy Slams Comedy Central India For Censoring Same-Sex Kiss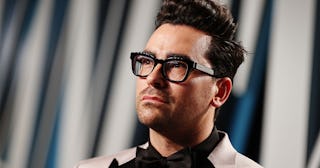 Rich Fury/VF20/Getty
Dan Levy is not here for Comedy Central India censoring a kiss between two men on his hit series "Schitt's Creek"
Dan Levy is an incredible force for good in the entertainment community. His absolutely perfect series, Schitt's Creek, that he created with his father, actor Eugene Levy, presented LGBTQ relationships in a completely positive light and gave many fans the courage to come out to family or simply live their most authentic lives proudly and openly. It's hard to understate what his series means to people and clearly, he's behind the show's messages of love and inclusivity 100 percent. That's why it's not surprising to see him slam Comedy Central India for their decision to censor a kiss on the show between two men.
The censored kiss was between Levy's character, David Rose, and Dustin Milligan's character, Ted Mullens, during a season five episode where several characters are playing "Spin the Bottle." He tweeted, "You showed the kiss between two women, you showed the kiss between a woman and a man, then removed the kiss between two men? This is a show about the power of inclusivity. The censorship of gay intimacy is making a harmful statement against that message."
And because people are reactionary and apparently can't read, Levy came back to clarify that this was regarding Comedy Central India, not the American version of the channel.
https://twitter.com/jetpack/status/1313613864156659713
The impact of Levy speaking out is profound.
Fans stood and cheered for Levy's no-holds-barred message to the network for leaving out the moment.
https://twitter.com/jetpack/status/1313529405927497730
ICYMI, 2020 is pretty much the year of Schitt's Creek. The show debuted its sixth and final season and grabbed up a historic number of (ridiculously well-deserved) Emmy awards this year including Outstanding Comedy Series, Best Actor and Actress, and Best Supporting Actor and Actress. It took awhile for America to recognize the completely shining perfection that is this complete joy of a show, but better late than never. For my own part, I binge-watched seasons 1-5 early in the pandemic and it brought me a great deal of happiness and comfort during a fraught time. Schitt's Creek, you are everything.
Levy shared what creating the queer characters on the show has meant to him in an acceptance speech earlier this year for a GLAAD award. "We see you. We love you all. I cannot think of a better fanbase — people who are showing up, who are standing for the messages of our show, for love, for acceptance, and being there for one another, as well as being there for us," Levy said. "Writing the queer characters on the show has been the greatest joy of my life… Making this show has been six years of absolute bliss."
Bravo to Dan Levy for speaking out every single time and if you haven't seen the series yet (GO WATCH NOW) it's all on Netflix. The sixth season landed on the streaming service this week.