OMG: Dan Levy Is Getting His Own Cooking Competition Show
by Erica Gerald Mason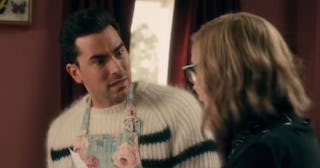 Schitt's Creek/Youtube
Your bestie Dan Levy is inviting you to brunch. Will you show up?
We can disagree on fashion. We can have screaming matches over politics. But brunch is the One True Thing that has the power to unite us all. And so the news that Schitt's Creek star Dan Levy's new competition show The Big Brunch has been picked up at HBO Max is like a rainbow after a cloudy day. Levy will serve as both co-creator and host of the series that aims to uplift "inspiring but still undiscovered culinary voices from all across the U.S."
But with brunch, y'all. WITH BRUNCH. The perfect meal that allows the eater to chow down on waffles, French fries, apple juice, a hamburger, biscuits, and a spring roll. Chased down with champagne, if you're feeling a bit festive. The contestants will have to come up with original and personalized recipes for brunching. As the series unfolds, chefs will share their stories and business dreams while competing for a "life-changing prize." As of this writing, the prize has not been announced.
Levy issued a statement about the upcoming competition. "Everybody has a friend, a family member, or a co-worker that is extraordinary at what they do, they just need a leg up so that their talents can be appreciated on a larger scale," the statement reads.
"Thanks to an almost obsessive love of food, I've been lucky enough to come across many of those people in the culinary world — friends working out of cafes or food trucks, revolutionizing the menus at local diners — those special humans who create communities around their cooking, hoping to take their skills to the next level," Levy continues. "I created this show for them, the local culinary heroes of America who deserve a spotlight. That, and who doesn't want to watch maple syrup being poured slowly over a golden stack of perfectly cooked, creme brûlée inspired French toast?"
HBO Max is thrilled with the concept, Sarah Aubrey, head of original content at HBO Max said.
"What we love about this special show is that it serves more than mouth-watering culinary delicacies; it's about heart, a love of cooking and spotlighting talent whose unique skills elevate the beloved brunch menu," said Aubrey. "There's no better foodie or creative partner than Dan and the team at Boardwalk Pictures to celebrate those undiscovered voices, and, well, Brunch, the best meal to indulge in decadent sweet and savory dishes that are fueled by cocktails and caffeine."
The show will air in 2022. Think you've got what it takes to be a brunch boss? Auditions are underway. Head here for details.