'Dancing With The Stars' Pro Keeps It Real With Post-Baby Body Photo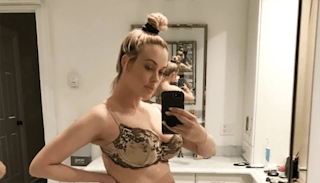 Peta Murgatroyd on her post baby body: "I left the hospital looking five months pregnant"
In a world where celebrities love to show off how quickly they "bounce back" after having a baby, Peta Murgatoyd is all about keeping it honest. The Dancing with the Stars professional dancer welcomed a son, Shai Aleksander, earlier this month with fiance Maksim Chmerkovskiy. While the couple has decided not to share any pictures of the newborn on social media just yet, Murgatoyd is giving her fans a no holds barred look at her post-baby body.
Rocking a super cute bra and a scrunchie, she showed off her belly just eight days after giving birth. "I left the hospital looking 5 months pregnant," she wrote. "Many people think a woman should shrink right back to her pre-birth weight immediately. That is just not the truth for most."
Even though there's a lot of joy that comes with welcoming a new baby, it can be more than a little unsettling to take that first look in a full-length mirror after giving birth. It's then you realize that even though you lost eight-ish pounds of baby and a horror film's worth of blood every time you use the bathroom your body still isn't the one you remember from before you got pregnant. Combine that sense of discomfort with seeing the latest celebrity showing off her newborn while wearing a crop top on a magazine cover and you've got an instant recipe for feeling crappy about yourself.
Murgatroyd's a professional dancer who's in amazing shape. Seeing someone with her fitness level who's willing to show off her post-baby bump in all it's glory is awesome. Plus she's honest about the fact that for some women there is no "bouncing back." "Now it's time for patience and hard work," she wrote. It's refreshing to see a celebrity admit that they're going to have to work hard if they want to make changes to their body just like the rest of us.
Murgatroyd's obviously gorgeous. Even if she thinks she looks five months pregnant there are plenty of women who would happily claim her body shape as their own. But how she looks or how she thinks she looks is really besides the point. What makes her post so powerful is the fact that she's showing her postpartum body some serious love just the way it is — not because of how much weight she's lost in the first week after having a baby.
This article was originally published on