'OITNB' Star Danielle Brooks Hilariously Calls Out Problem With Maternity Clothes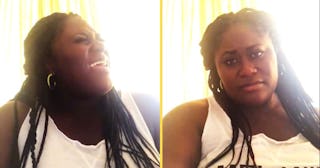 Danielle Brooks/Instagram
Danielle Brooks is here to belt about the struggle that is finding cute maternity clothes when you're plus-sized
Look, there are many wonderful things about pregnancy. There are also many not-so-wonderful things about pregnancy, and one of them is called maternity clothes. For whatever reason, many retailers think we all want to look like Lucille Ball circa her pregnancy with Little Ricky and the giant smocks they forced women to wear back in those days. Luckily, Orange is the New Black and Broadway star Danielle Brooks is here to call attention to the issue in the best way.
Brooks, who announced her pregnancy with her first child earlier this summer, is sharing her plight about maternity clothes on her Instagram page — via original song. And it's as hilarious as it is impressive.
RELATED: The Best Maternity Summer Dresses, Because Pants In The Heat = Hell
"It's so hard to find cute plus size maternity fashion while pregnant, but ima push through," she writes in the caption.
"It's so hard, to find some clothes, to wear today," she sings. "Although I get, get, get, get to be pregnant, I still can't find no clothes. It's so hard to find clothes when you're pregnant."
Oh, and uh, if you were unaware that Danielle Brooks can wail her pregnant ass off — well, now ya know. She didn't star in Broadway's The Color Purple for nothing, you know.
Brooks is no stranger to sharing how to love yourself and accept your body. She recently opened up about how it can be difficult to feel body-positive when you're pregnant, though.
"I'm really having to practice what I preach, about loving yourself at whatever stage you're at because my body has been going through quite the transition," she recently told Madame Noir. "I don't feel like we talk enough about the in-between that a woman's body goes through when having a child. I think we talk about how cute that bump looks and how amazing the snap-back was, but who's talking about the swollen feet, the heartburn, and the new stretch marks?"
As someone who is 10 days away from her due date and exceptionally swollen and feeling not-so-cute in my own ill-fitting clothes (I, too, am plus-sized and the maternity clothing industry has got A LONG way to go in terms of not tossing us in unflattering flour sacks), Brooks speaks to me.
And many others:
Maybe this will inspire Brooks to create her own fabulous line of maternity wear for women who aren't conventionally thin? Wouldn't that be amazing?
Until then, here's hoping she has a happy, healthy pregnancy and keeps the hilarious improv songs coming.
This article was originally published on