Dave Chappelle Tests Positive For COVID Mid Texas Comedy Residency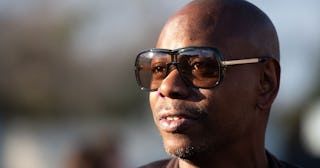 Sean Rayford/Getty
Dave Chappelle is quarantining after testing positive for COVID following a multi-night standup residency in Austin, Texas
Famous, rich people have a way of making is appear that they definitely don't think COVID precautions apply to them and Dave Chappelle is no exception. The comedian is now in quarantine after testing positive for COVID-19 following a multi-night standup residency in Austin, Texas.
He was also photographed several times with groups of other famous, rich people not wearing masks and just going about their standup events as if there's not a deadly pandemic killing more than 4,000 Americans per day. Fun!
Now, it's true that rich, famous people have regular, rapid COVID tests at their disposal (not unlike Donald Trump and Diet Coke) where most people who don't live in a major city have to wait days for an appointment to get tested, and then wait days again for results.
But even if someone like Dave Chappelle and his entire crew of rich comedians were getting tested round the clock, that doesn't mean he's immune from the virus.
When he's not resorting to homophobia for low-hanging laughs, Dave Chappelle's comedy is genius. He's made some of the most poignant analyses of class and race in modern history. But hosting a standup residency with crowds? Right now? DUMB AF and extremely irresponsible, and he and the comedy club should be taken to task for it.
A representative of Chappelle's told TMZ that the comedian is currently in quarantine and is experiencing no symptoms. He's since canceled all of his remaining shows scheduled at Austin concert venue Stubbs, where he was in the middle of a 10-day residency and was supposed to perform through the weekend, along with Joe Rogan.
Stubbs was also allowing groups of people to purchase tickets in sets of four, six, or eight seats. Guests were also privy to rapid COVID antigen tests and were asked to wear masks at all times while inside. The thing about safety measures and risk assessment is that they sound good, and it's good to have them in place, but they're not a "Get Out Of COVID Free" card, and you can still get the virus no matter how careful you are. More than 400,000 people have died, and many of them were extremely careful.
Prior to testing positive for COVID-19, Chappelle was photographed backstage with Rogan, Elon Musk, and Grimes. In another photo, he posed alongside Musk, Grimes, and comedians Michelle Wolf, Ron White, and Donnell Rawlings. And no one was wearing a mask in either of the photos.
When news of Chappelle's diagnosis became public, people on Twitter were quick to weigh in about it.
It's worth noting that Canadian musician Grimes, Elon Musk's fiance and mother to their child with a name beyond comprehension, tested positive for COVID and was symptomatic less than two weeks ago.
On January 9th, she confirmed her positive diagnosis in an Instagram Story, writing, "Finally got COVID, but weirdly enjoying the DayQuil fever dream … 2021."
Okay then. Here's hoping everyone bounces back from this, stays away from one another, wears masks, and stops hosting massive live events. Sheesh.
This article was originally published on