Watch Brooklyn Beckham Surprise Dad On His Birthday And Try Not To Weep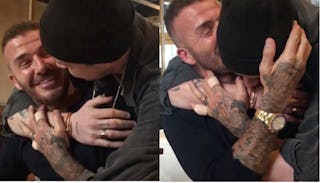 Image via Instagram/Victoria Beckham
Brooklyn Beckham gave his dad the best birthday gift in sweet Instagram video
It's a little early in the day for me to have cried all my Kat Von D tattoo eyeliner off, but here we are. It's all because Victoria Beckham shared the world's sweetest video of son Brooklyn surprising his dad and after you watch it, I guarantee your eye makeup will also dribble down your face.
Victoria took to Instagram to share video of 19-year-old Brooklyn, her son with husband David Beckham, giving his dad the best 43rd birthday gift. Prepare yourself, this is a rollercoaster of emotions:
Yep. That's tattooed mega hottie David Beckham practically in tears, smothering his adult son with kisses as he revels in the fact that he has his boy home for his birthday. Did you catch little Harper in the background saying, "I didn't know Brooklyn was coming!" I can't even, it's too much.
Now this isn't some garden-variety "hey my kid came to my birthday lunch when I thought I wouldn't see him until later in the day" surprise. Brooklyn is currently a college student at Parsons School of Design in New York City. The Beckhams are London-based, which means the teen must have made a very special trip across the pond just to surprise his dad. Hence, David's freaking precious emotional meltdown at having his oldest kid home on his special day.
Now, David was already having a pretty spectacular birthday, even without Brooklyn's arrival. Earlier in the day, Victoria posted sweet video of Harper (with her achingly cute British accent) reading aloud the card she made for her dad.
It's OK to melt into a puddle on the floor, I'm already there. We can all swoon together forever over the complete perfection that is this sweet family.
Victoria even threw out a little fake with this photo and the caption "Happy birthday to the best daddy!! X we all love u so much!!! So many kisses from us all xxxx we miss u @brooklynbeckham."
So. Sweet.
It looks like David's 43rd birthday might be his best ever.
This article was originally published on