Stranger Things Star Loses Bet, Poses In Hilarious Senior Pics With Fan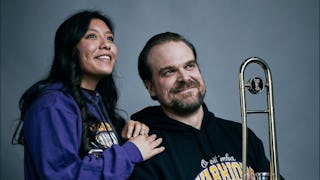 Image via Damaris Fregoso
For the best senior photos in the yearbook, you just need David Harbour and a trombone
When it comes to senior pictures, there's not a ton of variability. Sure, there are seniors who get creative on occasion, but pretty much everyone has the classic set: a pose by a window, a pose by a plant, maybe a pose with a musical instrument or a piece of sporting equipment or a pet, depending on his or her interests.
But a pose with a celebrity? That's a little more outside the box.
Damaris Fregoso, a 17-year-old student from Newmam, California, is a big fan of Netflix's Stranger Things (same, TBH), and she had a brilliant idea for her senior pics: She tweeted at David Harbour, who plays Police Chief Jim Hopper in the series, asking him what it would take to get him to pose with her.
Surprisingly, Harbour saw the tweet in what must be a flood of mentions he receives every day, and laid out his conditions: 25,000 retweets, plus he wanted to wear Fregoso's school sweatshirt and hold a trombone.
Since this is the internet and anything can happen (especially if it's something totally ridiculous like this), Fregoso's tweet went viral. She got more than the 25,000 retweets she needed, and Harbour, bless his heart, didn't back down from his promise.
"Holy hell, internet. How can you be in favor of this? Friends don't lie," he wrote, asking Fregoso to send him a private message to arrange their joint photo shoot.
And thus, the internet was gifted with the photos.
Fregoso posted a selection of shots, and Harbour posted another collage to Instagram, showing even more of them. Needless to say, we know who will have the most epic entry in Fregoso's school's yearbook.
"Well this is certainly something I didn't think would actually happen!" Fregoso wrote on Instagram in a later post, sharing a video of Harbour hamming it up behind her during the shoot. "David is such a sweet dude!"
https://www.instagram.com/p/Bdzb1pdhjTo/?utm_source=ig_embed&utm_campaign=embed_legacy
"Literally I still can't believe it. I never thought that David would have ever tweeted me back," Fregoso told the Fresno Bee. "I'm still shocked for the most part. It's crazy to think this happened because of retweets."
Even the photographer behind the epic pics weighed in, writing in a tweet, "I don't always take senoir portraits, but when I do, it's because @postydamaris gets 25k+ retweets and @DavidKHarbour agrees to take them with her as long as he is allowed to hold a trombone," followed by a laugh-crying emoji.
Yep, a laugh-crying emoji pretty much sums this up.
This article was originally published on