David Schwimmer's Ex Natalie Imbruglia Has Some Thoughts On Aniston 'Crush'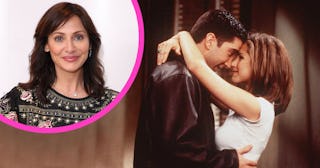 Mike Marsland/Getty
Jennifer Aniston and David Schwimmer crushed on each other during the early seasons of Friends and Natalie Imbruglia, Schwimmer's girlfriend at the time, reacts
When the Friends reunion landed on HBO Max last month, the big bombshell revelation was that on-screen lovers David Schwimmer and Jennifer Aniston actually had a real-life crush on each other but never really did anything about it because they were apparently never single at the same time. Now, Schwimmer's ex-girlfriend, singer Natalie Imbruglia has weighed in, because she actually dated him in the '90s around the time of his so-called "crush" on Aniston.
David Schwimmer and Jennifer Aniston admitted to "crushing hard on each other" during the early days of the series.
"I mean, the first season, I had a major crush on Jen. At some point, we were crushing hard on each other," Schwimmer admitted during the reunion. "But it was like two ships passing because one of us was always in a relationship and we never crossed that boundary. We respected that."
Well, one half of one of those relationships weighed in with her perspective and that person is iconic singer Natalie Imbruglia.
During a recent appearance on KIIS FM's Kyle and Jackie O Show (via The Independent), Imbruglia — the queen who gave us "Torn" — addressed whether Schwimmer and Aniston's crush overlapped with the time she and Schwimmer dated in the '90s.
"Were you wondering if there was a crossover?" the singer asked.
"I thought that too," Imbruglia added, but ultimately said, "No, I'm joking."
Tbh, I forgot that Schwimmer and Imbruglia dated, and the singer herself says she doesn't remember exactly when they were together, but she did know that it was while Schwimmer was on Friends.
"I do remember being on the set and I remember everybody being lovely and really, really nice," Imbruglia continued. "I wasn't paying attention to whether they were giving each other 'little looks' over my shoulder. I don't know if that was happening. I'm okay with whatever happened back then. It was a long time ago."
The funny thing was, though Imbruglia might not have paid attention, apparently everyone else on set was aware of Aniston and Schwimmer's vibe.
"I'm thinking, 'How did everyone not know we were crushing on each other?'" Schwimmer said at the reunion as Matthew Perry and Courteney Cox agreed that everyone did, in fact, know.
It all seems to be water under the bridge for all involved parties, including Aniston who recently told Howard Stern (via People) that despite what you may think, she and Schwimmer's crush was simply that, a crush.
"No, I would proudly say I banged Schwimmer if that happened. But no," Aniston joked. "We were in relationships and it was always never the right time and it wouldn't have worked. The beauty of that was that whatever feelings we had we just literally channeled everything into Ross and Rachel and I think that's maybe why it resonated the way it did."
The rest, they say, is history.