Dax Shepard Shares 'Ingenious' Way Kristen Bell Talks To Their Kids About Sex
by Erica Gerald Mason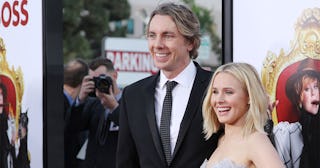 Matt Baron/Shutterstock
Shepard spoke with guest Gwyneth Paltrow about how he and Bell approach the subject with their children
For many, Dax Shepard and Kristen Bell have become the representatives of a new, modern, and more open way of parenting than what many of us were raised with. In a recent episode of the podcast Armchair Expert With Dax Shepard, the proud papa of two little girls, ages eight and six, was honest about how he and Kristen talked to their children about sex.
After discussing the way parents used to talk about sex with their children (and in particular, fathers talking about sex with their daughters), Dax talked to guest Gwyneth Paltrow about what he chalked up as his own "unpopular opinion."
"Of course, the most generic thing every guy says to me is, 'Oh, you better have a gun, there's gonna be guys coming around,'" Dax said. "This notion I have to protect my daughters' virginity with great prejudice if necessary."
"My response is, I do not want my daughters to have sex so they can get approval from somebody, but if my daughters are horny and want to have sex, that was my favorite activity, remains my favorite activity, I'd be lying if I said I was in any way anti-that activity. I'm anti-getting esteemed from that activity, but that's it."
Dax elaborated that Kristen has also developed an "ingenious" way of talking to their daughters about consent — and honestly, we're stealing it.
"I'll tell you one thing that my wife does that's ingenious," Dax said. "When she describes sex to our children, she says, 'And then the woman takes the man's penis and puts it in her vagina.' So right away it's like, you're in charge of this, you will decide to put this in your vagina, not the man puts his penis in your vagina."
"I was like, that's a nice little adjustment we're gonna make," he said, clearly proud of his wife for framing the conversation in a sex-positive way that puts consent front and center.
Of course, the couple is no stranger to very open conversations about their parenting, marriage, and Shepard's journey in sobriety. We can add this advice to the many other instances where they've put themselves out there and made tons of other folks feel more seen. Kudos for that.