Dax Shepard Reveals Relapse After 16 Years Of Sobriety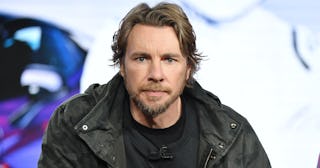 Amy Sussman/Getty Images
During a September 25 episode of his podcast, "Armchair Expert," the 45-year-old actor revealed that he had relapsed on Vicodin
"Relapse is part of recovery," is one of the most popular phrases of every 12-step program, especially for those who struggle with an addiction to drugs or alcohol. Why? According to the NIH, 40-60 percent of those suffering from substance abuse problems experience a relapse. Dax Shepard is one of the millions of Americans who has struggled with addiction, and has been candidly honest over the years about his history of drug abuse, why he decided to get help, and what his sober life entails. On Friday, the usually light-hearted comedic actor made a serious confession: after 16 years of continuous sobriety, he recently suffered a relapse. During the September 25 episode of his podcast, Armchair Expert, the 45-year-old detailed exactly what triggered his relapse, what happened, and where he is today.
Shepard started by explaining that his relapse wasn't sudden, actually starting several years ago in 2012, the year prior to his father's death from prostate cancer.
https://www.instagram.com/p/CFkHVzkpJPQ/
"Eight years into sobriety, I had not done a single shady thing. I hadn't done anything gray," he explained.
That was until his father's illness when he spent a great deal of time going back and forth to visit him at the hospital. Around this time he was involved in a motorcycle accident, and first picked up pain pills.
"I immediately called my sponsor, and I said, 'I'm in a ton of pain and I gotta work all day. And we have friends that have Vicodin,'" Shepard explained. "He said, 'OK, you can take a couple Vicodin to get through the day of work, but you have to go to the doctor, and you have to get a prescription, and then you have to have Kristen [Bell] dole out the prescription.'"
For awhile, he followed that guidance. However, at one point during a visit with his father in which he traveled without pain pills, he was put in a situation where he had to give his father Percocet — and he ended up taking some, double of what he was prescribed — himself.
"You know, we had so little in common and so much f–king friction. But the no. 1 thing we had in common was we were both f–king addicts and we had never used anything together. And we sat there stoned and looked at the lake. And in that moment, I felt elation and I was just happy," he recalled.
Bell ended up surprising him during the visit, and Shepard confessed to her that he had relapsed. She was understanding, but instructed him to call someone from Alcoholics Anonymous. "That was eight years ago," Shepard continued. However, he added that "I felt bad, but there wasn't any fallout from it. It was like, I felt bad, I said I felt bad, and then I did just move on and it was fine."
Then he got into another motorcycle accident and was once again prescribed pain medication. Due to the fact they were keeping him up at night, he opted to save them so that he could take them when needed. "That cycle happens maybe three or four more times," he continued, referring to the feeling of guilt. "I feel shady, but I don't feel like this is a problem. I didn't desire more when the thing was over."
Seven surgeries later, he continued to experience pain, and kept taking the pills. "I go ride a lot. After I ride sometimes on the track, I feel I'm entitled to take two Vicodin at the end of the day because I am in pain. That again doesn't feel that crazy," he said.
https://www.instagram.com/p/CEFC-pChdH_/
But things started "getting shadier and shadier," he continued. "And I've not ever yet bought them. And then I do…For the last eight weeks maybe, I don't know…I'm on them all day," he admitted. "I'm allowed to be on them at some dosage because I have a prescription. And then I'm also augmenting that. And then all the prescriptions run out and I'm now just taking 30 mil Oxys that I've bought whenever I decide I can do [it]."
While he still felt okay about everything because life was still manageable, he got called out by his co-host Monica Padman — and he ended up lying to her. "And I'm lying to other people and I know I have to quit," he continued. "But my tolerance is going up so quickly that I'm now in a situation where I'm taking, you know, eight 30s a day, and I know that's an amount that's going to result in a pretty bad withdrawal. And I start getting really scared, and I'm starting to feel really lonely. And I just have this enormous secret."
https://www.instagram.com/p/CE2XrXThwnv/
He tried tapering down on his own, but found that he couldn't. "I now start getting pretty visibly detoxy and withdrawly," he said. "And I lie and start saying I'm having an arthritis flare up."
Finally, less than two weeks ago, he confessed everything to Padman. "I'm gaslighting you and I know I am. And I'm making you feel crazy and I'm making Kristen feel crazy," he admitted.
He also confessed to his wife, Bell, revealing that he was incredibly afraid that if he didn't get honest about his addiction, that it would continue to worsen. "My fear was that if I have one day, I'm going to drink and I'm going to do coke. I haven't drank a beer in 16 years and I haven't snorted a line in 16 years. And if I have one day, then I might as well f–king have what I really want and then start over. And my fear of that is if I do that, it may take me three years to get that back in the cage and I may die," he said.
"I just know what I'm like on those two things," he continued. "And again, it's very hard for me to know what part of this is, like, my addiction and what great stories I tell myself of reasons why I can't just be f–king humble and say I failed. I think I have a very legitimate fear that I would drink. And also I think my addiction is smart enough to say you can't do that or you'll drink."
Then, he took action by going to an Alcoholics Anonymous meeting. During the meeting he shared, but didn't cop to the whole story. "I basically cop to getting a couple of prescriptions that Kristen didn't know about, which again is not the full story," he said.
He later confessed everything to his best friend, who explained to him that he needed to be humble and tell the truth. "That was terrifying. That was so terrifying and yet I couldn't deny that that was the real antidote," he said about finally getting honest.
Then, when he stopped taking the pills, he started experiencing withdrawal symptoms, revealing they were worse than ever. "I'm sweating bullets; I'm jerky; my back kills. It's terrible. I've never detoxed from opiates, and I have so much compassion for these junkies who have like f–king cycled through this 20-30 times," he said.
What made his relapse even more painful was that Bell had shared what she thought was his 16-year anniversary of sobriety on social media. During an interview he was congratulated for reaching the milestone and lied about it. "It was the worst hour of my life," he explained.
When he was off opiates for a full 24 hours, he admitted everything during a meeting. "It turned into the most incredible, like, 90 minutes I've ever experienced, where there was just so much love and so much understanding and kindness and unconditional love," he said. "There's probably been many others, but it's the only experience I can remember having that was just grace, the definition of grace. And it was very emotional. It was a really, really surreal kind of experience."
And, after the meeting, he experienced relief for the first time in many years. "For…a long time, I've known intellectually that things are going to get worse. That each encounter with it had gotten more shady and more dangerous and I recognize that the next go-around would be, 'Oh I can't get pills. Let's snort heroin.' And you know, I've had a lot of friends that I've watched go through this whole cycle, and I finally have the humility to say I will not be any different. I won't be special. I won't be smarter. I will be exactly like everyone else," he said.
Then, during the podcast, he apologized to his co-host again and that it "wasn't fair" that Bell would have to discuss his relapse in interviews herself. However, he explained that he was hopeful for the future.
On Friday, he also shared about his relapse on Instagram, revealing that he is 11 days sober today. "An episode I hoped I'd never have to record, but one I felt I owed to all the beautiful Armcheries who have been on this ride with me for the last couple years," he wrote. "This was Monday, say today is 11."
While Shepard is clearly struggling, his honesty surrounding his recovery and relapse is incredibly powerful. In publicly discussing his struggles he will undoubtably help others who are fighting a similar battle, showing them that it is honorable to do the same.
This article was originally published on