Mattel Releases Limited Edition 'Day Of The Dead' Barbie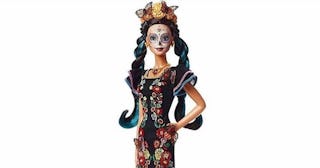 Mattel
The limited edition Barbie drops on Thursday and is a celebration of Mexico's Día de los Muertos, or The Day of the Dead
Barbie sure has evolved since her creation in the 1950's. While we know she can be just about anything she wants to be (and she sure has been everything), in recent years we've seen different cultural representations, rather than just different occupations, of the classic icon, too.
The newest limited edition Barbie's aim is just that — to celebrate the Día de los Muertos, or, The Day of the Dead. And we don't have to wait much longer for her to arrive. She's coming to Walmart and Amazon this Thursday, Mattel just confirmed, so those who celebrate The Day of the Dead and love Barbie might want to pick one up before the holiday arrives.
Your kids will definitely be all about her, too, because she looks downright stunning. She has long, beautiful, black hair that's streaked with blue highlights and tied into two braids. She wears a black gown covered in gorgeous details like flowers, skulls, and butterflies. And of course, it wouldn't be fitting without the traditional make-up. Barbie has traditional skull makeup on her face to go along with a butterfly headpiece and jewelry.
The Día de los Muertos starts on October 31 and goes through November 2, which means the doll is coming just in time for the holiday. But if you don't know a lot about the Mexican celebration, this new doll's production is the perfect time to learn. The Day of the Dead is a holiday meant to show love and respect for lost loved ones. It's about deep appreciation for the deceased and "a reaffirmation of indigenous life," according to National Geographic. The holiday is recognized by UNESCO for its cultural traditions passed down through generations.
The Day of the Day is celebrated over two days. The first day focuses on families remembering children who have died and the second, the focus is on adults. The belief is that on these days the spirits of those who have passed on can join the living to celebrate. People leave out toys for children who have passed and calaveras, which is the iconic skull made from sugar and decorated with beads, feathers, and other items of significance.
Barbie has a long history of changing over the years to celebrate more and more people, jobs, and cultures. And most people are pretty psyched about this one.
While some are concerned this Barbie veers toward cultural appropriation, Mattel says the doll's aim is to spread awareness about Mexican traditions.
Either way, it's hard to argue that she will likely be flying off the shelves. The limited edition Barbie retails for $75 and is sure to become a treasured collector's item for many families.
This article was originally published on