Florida Public School Teacher Allegedly Exposed As White Supremacist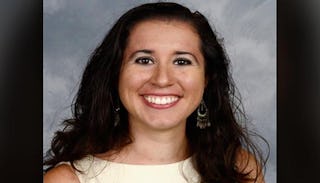 Image via Crystal Springs Middle School
Dayanna Volitich used an online alter ego to spew hateful, white supremacist propaganda
A public school teacher at a Florida middle school is allegedly running a white nationalist podcast, Twitter account, and website — according to an exclusive report by HuffPost. Dayanna Volitich is currently listed as a social studies teacher on the Crystal Rivers Middle School website.
It also appears she has an alter ego, "Tiana Dalichov," and uses the alias to spread anti-Muslim and white nationalist propaganda while bragging about teaching her views in her public school.
The report highlights the indisputable similarities between Volitich and "Tiana Dalichov" — both appear to be identical in photos, both are 25-year-old Florida public school teachers, etc. While the Twitter account and podcast have been deleted in light of HuffPo's report, the site was able to snag some pretty damning screenshots and download the most recent episode of her podcast, Unapologetic.
The deleted tweets are enough to make your stomach churn, where she regularly wrote things like "It isn't supremacist or hateful to prefer your own people over others" and stating "systemic racism and white privilege aren't real." In one particularly hateful tweet, she shared her hateful feelings about "eradicating Muslims from this earth."
In the most recent episode of Volitich/Dalichov's podcast, she talks about manipulating the administrators and students at her school regarding her classroom curriculum. "I told the kids that. I said guys when they are in here I'm going to be different than I usually am. I just don't want you to be shocked, I want you to play along and they're like, OK," she said.
During the same podcast episode, she talks about one parent of a student who complained about her teachings. The principal of her school approached her via email to discuss the matter. "I had one at the beginning of this year who emailed the principal over my head and basically told her I'm worried that your teacher is injecting political bias into her teaching," she says. "And the principal came to me and she was like I'm not worried, should I be worried? And I was like no. And she believed me and she backed off."
Further tweets from the Tiana Dalichov account shared anti-Semitic readings, as well as regular re-tweets from notorious white supremacist David Duke and other neo-Nazis.
As for her position at the school, the status of her employment remains to be seen. The executive director of educational services for her district told HuffPo the district will investigate her statements to see if they violate their code of ethics policy. "The views she's listed are really not in line with how our district operates."
It's disheartening this woman was able to remain employed — as a social studies teacher at a public school of all things — for over a year without any eyebrows being raised. Could you imagine if, in accordance with the recent bill proposed by Florida legislation, THIS WOMAN was an armed teacher? I'm shuddering just thinking about it.
Here's hoping the district does the right thing here, ASAP.
This article was originally published on