NFL Star Honors Mom Blinded In Acid Attack After Every Touchdown
by Julie Scagell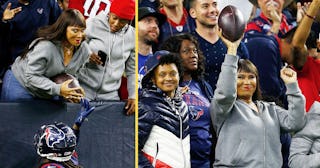 Bob Levey/Getty
DeAndre Hopkins finds his mom after every touchdown to hand her the ball
Houston Texans star DeAndre Hopkins owes a lot to his mom. She's supported him throughout his football career which finally landed him as an NFL first-round draft pick in 2013. Because of that, and because of all she's overcome, he pays tribute to her every time he scores a touchdown in the most adorable way.
The Texans All-Pro wide receiver has a tradition when he finds himself with the ball in the endzone — he finds his mother, Sabrina Greenlee, in the stadium and hands her the ball. Greenlee was blinded after a domestic dispute when a combination of lye and bleach was thrown on her over a man Greenlee had been dating. Her attacker was eventually sentenced to 20 years in prison for assault and battery with intent to kill.
During their game Thursday night against the Indianapolis Colts, Hopkins scored two touchdowns, cementing his team in first place in the AFC South. Both game balls went to his mom.
Greenlee opened up to ESPN earlier this year about the incident which left her blind, saying, "As I'm lying there, the first thing I'm thinking is, 'Why would someone pour warm water on my face?' But a couple of seconds later, I realized it wasn't warm water, because my skin is literally falling off my face, my neck, my chest and my back." She ended up in a coma for several weeks following the attack.
Hopkins' mom eventually recovered and started a nonprofit organization called S.M.O.O.O.T.H., which stands for Speaking Mentally, Outwardly Opening Opportunities Toward Healing. "S.M.O.O.O.T.H. is an unprecedented attempt to eliminate the epidemic of Domestic Violence and transcend those affected from hurt to healing," she says on her website. "Our mission is to empower, educate, and prepare survivors of Domestic Violence by acknowledging, celebrating, and affirming their whole selves."
Hopkins was just a kid at the time of the attack and says the tradition started as a "way of staying close to her. Whenever I score a touchdown or do something, I try to make sure she gets the ball so she can feel me," he said. He credits much of his work ethic to his mom, who held down two jobs, one during the day and the other at night.
"It's helped me learn a lot, about life, about how to treat a woman," he said of his mom's situation. "It's helped me become a man." Greenlee sits in the same spot and goes to every single game, which she's done far before Hopkins landed in the NFL. "It goes back to when I got the courage up when he was in junior high," she explains. "I remember him saying, 'I just want you to be there.' So if I'm there, and I'm present, and I'm alive… that's ultimately all he wants. He doesn't care that I can't see."
She continued: "I've not always been your typical role-model mother, and he still respects me enough to let everybody see him give me that ball," she said. "That ball symbolizes so much more than people ever could understand."