Deena Cortese Gets Mom-Shamed By The Internet Before Even Leaving The Hospital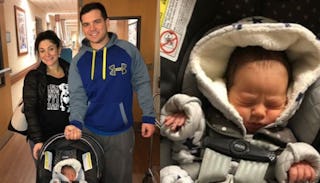 Image via Instagram/Deena Cortese
Social media piled on the new mom for how she strapped her baby into his car seat to drive him home
In the few days since she gave birth to her first child, Jersey Shore star Deena Cortese has undoubtably learned so much about what it's like to be a mom. Unfortunately, one of the things she's already gotten to experience is an Internet-wide mom-shaming.
The reality star and New Jersey native posted a few pictures of her brand new son Christopher John (CJ) on her Instagram page, all bundled up and ready to head home for the very first time. But what she thought was an innocent picture of the baby in his car seat caused an uproar in the comments section.
Either sensing that she was heading into controversial territory or editing the post after being attacked, Cortese wrote "Going home 💙 ( it's not a jacket .. it's a onesie and hospital approved it) we're not perfect but we got this 👌🏼 thank you for the concerns
Within minutes, moms were criticizing Cortese for both the bulkiness of the child's outfit and for the looseness of the car seat's straps.
"You can clearly tell in the picture that the straps are not tight enough because the clothing is bunching up underneath it," one poster pointed out.
"The harness is too loose, look around his legs!! It's clearly loose as fuck," another pointed out, a little more bluntly.
The tone of the comments ranged from well-meaning advice to shocked outrage to finger-wagging reprimands.
And of course, after a bit of time, the mom-shamers turned on each other, leading to extensive infighting about car seat regulations, CPST certification, and hospital rules. Sigh.
There were, though, people who commented with pure support:
"I hate that when we post pictures of our kids we have to explain ourselves," one mom wrote. "I posted a picture with a baby blanket next to my son just as a prop and people laid into me! You are going to be such a great mommy!"
Another poster chimed in with this very true statement: "If she had him in just a onesie, people would be criticizing her for not dressing him warm enough. You just can't win."
Sounds like she's already learning how to respond to mom shame, even if she still needs a little bit of help with her car seat.
So, what are the actual rules regarding thick layers on babies in car seats and loose straps?
According to expert reference site The Car Seat Lady, a winter coat or snow pants can create a total of four inches of slack in the straps, which is enough to allow a child to slip out of their seat during a collision.
How can you keep your child warm and safe during winter while in the car? The Car Seat Lady site recommends dressing your child in a few thin, tight layers: "How many layers to use will depend on the outside temperature, if you can warm your car up ahead of time, how cold/warm your child tends to be on average, and what other products you may be using to keep your child warm in the car."
As for how you should strap your baby in, you should be able to wiggle one finger between the strap and your kid's collarbone, but not two stacked fingers (it's all explained thoroughly, along with clothes layering and blankets, in the video below).
As for whether hospitals and nurses know about car seat safety – it depends. The vast majority of hospitals have specific rules about how infants leave the hospital, and some nurses and doctors may be certified Child Passenger Safety Technicians (CPST). However, it's completely possible that whoever checks to make sure your baby is safely in a car seat before you leave may not get everything right, either about the straps or the installation – and that might be the case with what happened with CJ.
Does this mean that everyone should have jumped down Cortese's throat before she could even get home and while she was probably still wearing disposable underpants? No, it doesn't. There are nicer ways of helping other moms out and keeping their kids safe without bringing shame into it.
This article was originally published on