Delivery Driver Dips His Nuts In Salsa And Like, Are Men OK?
by Valerie Williams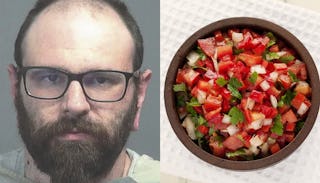 Image via Blount County Sheriff/Silvia Elena Castaeda Puchetta/EyeEm/Getty Images
A delivery driver decided to put his nuts in a container of salsa meant for a customer and OMG, why?
Men, do you need help? Are things OK? Blink once for yes, twice for hell yes. We ask because we're newly horrified by the latest news of Men Being Weird And Awful. A man delivering food allegedly dipped his testicles into an order of salsa he was bringing to a customer. No, we're not kidding. Yes, oh yes, how we wish we were.
31-year-old Howard Matthew Webb of Tennessee was in the passenger seat of a delivery vehicle while another employee drove to their destination. According to Fox 12, Webb was caught on video dipping his doo-dads into the spicy condiment before getting it to its destination.
Like, how is this a news story? What drove this man to the decision to open a container of salsa meant for an innocent Mexican take-out customer and push his nads into it? And allow it to be filmed by the driver?
Apparently, it was all about the Benjamins — or lack thereof. The driver allegedly shared the video online with the caption, "This is what you get when you give an 89 cents tip for an almost 30-minute drive." Webb was arrested last week on charges of adulteration of food and I'm never getting take-out delivered to me again.
Unfortunately, the video of the baffling incident is still making the rounds. While we can't literally see his, uh, parts, it's still pretty NSFW. Or life in general, because EW.
News 10 shared the horrifying footage where Webb can be heard saying, "Oh, it feels good on my balls."
What in the entire hell.
Dinner Delivered, the service that employed the driver and Webb, has fired the driver and sent information about her identity to the police as well. Yes, that's right, his accomplice was a woman. The arrest warrant stated that the food came from a local Mexican restaurant and the customer was refunded for the ball-tainted food.
This is 2019, y'all. This is us.
Of course, the internet being what it is, had a field day with this little news bit.
And somehow, Florida came up even though, for once, this was not a Florida Man story.
Dinner Delivered answered to the incident on Facebook calling the delivery driver a "rogue independent contractor." In the post, they promise to "pursue both criminal and civil action against all individuals implicated by the evidence provided to our dispatch center about the driver's behavior."
They unidentified food delivery driver "engaged in criminal behavior that has resulted in indecent acts performed to customer orders, as well as unverified claims of inserting poisonous substances inside customer drinks," they said. "These acts appear to be motivated by singular personal frustrations of this sole contractor, and are absolutely not reflective of the behavior of the remainder of our capable and customer-oriented delivery force or the principles and values of Dinner Delivered as an organization."
Boy, we hope so.
Webb will be in jail until his hearing on March 12. We sincerely hope he's not left with any food unsupervised.