Demi Lovato Worried That Coming Out Would Harm Their Career
by Kristina Johnson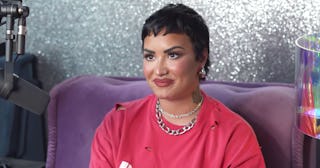 Demi Lovato/Youtube
Demi Lovato feared what would happen to their career if they weren't "hyper-feminine"
Actor and singer Demi Lovato came out as non-binary last month, asking the world to use they/them pronouns. Now, Lovato is sharing some of the fears and worries that led up to that announcement.
Lovato spoke with transgender boxer Patricio Manuel on the 4D with Demi Lovato podcast about their journey to accepting and celebrating their gender identities. Lovato admitted that they worried what revealing their non-binary identity would do to their job prospects. "I was so afraid, at times, of what my career would look like if I wasn't that super sexy hyper-feminine pop star," Lovato said. "And my career doesn't matter as much to me now, as it does living my truth."
"I know what it's like to have your dream feel like it can hold you back," they explained, but added that thankfully, the opposite has turned out to be true. Lovato feels that coming out as non-binary has made them a better artist. "Now that I am living my truth, my art has just become that much greater because my art is a reflection of who I am."
"So now that I'm able to be more transparent with the world in who I am, they can see my art better. And they hear it better," Lovato added.
Lovato first shared that they were non-binary on the inaugural episode of the 4D podcast. "I identify as non-binary. With that said I'll officially be changing my pronouns to they/them. I feel that this best represents the fluidity I feel in my gender expression, and allows me to feel most authentic and true to the person I both know I am, and still am discovering."
That declaration followed what Lovato called a year and a half of healing and self-reflection. Back in 2018, the pop star suffered a near-fatal overdose that caused several strokes and a heart attack. Lovato has said that overcoming that trauma helped give them the courage to come out—first as queer back in March and then eventually as non-binary.
Lovato has said that sharing these truths "opens a new level of vulnerability" for them, but that it felt important and necessary to do, despite the risks — not just for their own self, but also for their fans and anyone who might be struggling with their own identity. "I'm doing this for those out there that haven't been able to share who they truly are with their loved ones. Please keep living in your truths & know I am sending so much love your way."