Democrats Want To Halt 2026 World Cup Funding Until Women Get Equal Pay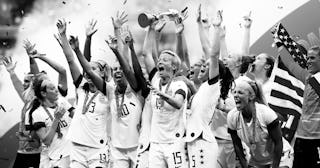 Marc Atkins/Getty
No World Cup until women receive equal pay? That's what Democrats are calling for
The USWNT has made a lot of headlines lately. Not just for dominating in France and bringing home their second back-to-back Women's World Cup title and record-breaking fourth overall, but also because as one of the best soccer teams in the world, they receive much less pay than the far-less-successful U.S. men's team.
Amid an ongoing lawsuit that's about to head to mediation between the women's team and U.S. Soccer, lawmakers are joining the fight. Senate Democrats have called for a bill that will halt all federal funding for the 2026 Men's World Cup, which the U.S. is hosting, until the women's team receives fair and equal pay.
Without federal funding, the U.S. won't be able to get the infrastructure in place that it needs to host an event on the scale of the World Cup, so Democrats are definitely playing hardball here. Basically, they're saying no U.S. World Cup until the women's team receives equal pay, and you know what, that sounds pretty fair and reasonable to us. The Cup should happen on a world stage that can inspire the entire world, women included, and while U.S. soccer has inequitable pay standards in place, it's sending a message that's more embarrassing than inspiring.
The Democrats' efforts are led by West Virginia Senator Joe Manchin, who was inspired by a letter he received from a women's soccer coach who was concerned that if her players ever made the U.S. National Team, they'd face the blatant pay inequity that's happening there now.
This comes as reports are showing women's teams actually bring more revenue than men's, contrary to what many people think. Couple that with the fact that the USWNT has now won four titles, as opposed to the men's team's zero, and the picture it paints is not a pretty one. Not that any of this matters, because women deserve equal pay to men for equal jobs, regardless of parsed out revenue or the success of the team.
There's worldwide support for this kind of a move. After the USWNT won this year's final in France, chants of "equal pay" filled the stadium, which was sold out with spectators from all over the world. The time for equal pay for women is long overdue.
This fight doesn't just take place on the soccer field. Women are fighting for pay equity in workplaces all over the world, including in the United States, where women still earn a reported 78-82 percent of what men earn for similar jobs with similar levels of experience.