Derek Chauvin Just Bonded Out Of Jail Because 2020 Is A Literal Hellscape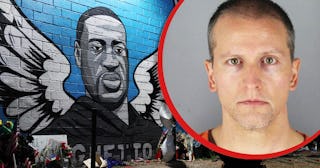 Joe Raedle/Getty and Hennepin County Jail
Derek Chauvin, the ex-police officer facing charges in the death of George Floyd, is out of jail
On May 25, a Minneapolis police officer was caught on video kneeling on the neck of 46-year-old Black man George Floyd for roughly eight minutes. Despite Floyd's repeated insistence he couldn't breathe — and the pleas of bystanders on his behalf — the officer refused to take his knee off of Floyd's neck… until it was too late. Floyd was pronounced dead shortly after.
That officer, Derek Chauvin, was just released from jail on a $1 million bond. Although the release is conditional, Chauvin isn't expected to appear in court again until March of next year. Which begs the question: Where's the fucking justice?
"I can confirm he is no longer in our custody," Sarah Fitzgerald, spokesperson for the Minnesota Department of Corrections, told CNN. Chauvin, 44, reportedly left Oak Park Heights Correctional Facility around 11 a.m. Jail records show that Chauvin posted bond, which means he (or someone on his behalf) paid a bail bondsman up to $100,000 (or 10 percent of his total bail amount, the maximum charge allowed by Minnesota law) to secure his release.
Chauvin faces charges of second-degree murder, third-degree murder, and manslaughter for Floyd's death. Former officers Thomas Lane, J. Alexander Keung, and Tou Thao are all charged with aiding and abetting second-degree murder, as well as aiding and abetting second-degree manslaughter. Having previously posted their individual $750,000 bails, the three men are also currently free.
In June, Floyd's family released the findings of an independent autopsy. Performed by Dr. Michael Baden and the University of Michigan's Medical School's director of autopsy and forensic services, Dr. Allecia Wilson, the external investigation corroborated that Chauvin's kneeling directly contributed to Floyd's death.
"What we found is consistent with what people saw. There is no other health issue that could cause or contribute to the death," said Dr. Baden, underscoring that Floyd's death was "caused by asphyxia due to neck and back compression that led to a lack of blood flow to the brain."
Floyd's killer — the man who was literally caught on video murdering him and showing zero remorse — has been released after serving mere months behind bars, segregated from the general population.
George Floyd is dead, but his killer will be home for the holidays. George Floyd's daughter won't get to unwrap presents with her dad ever again, but his killer might spend the month of December hitting the local Christmas party circuit.
So, again, where's the fucking justice here?