Florida Students No Longer Have To Quarantine After COVID Exposure
by Christina Marfice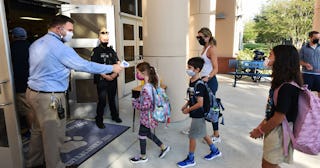 Paul Hennessy/SOPA Images/LightRocket/Getty
A new order makes it up to parents whether kids in Florida have to quarantine after being exposed to COVID-19
As Florida has been battling some of the highest pediatric case rates in the nation during the latest COVID surge, the state's surgeon general just issued a controversial (and, frankly, terrifying) new order: Parents will now have the choice of whether their kids need to quarantine after being exposed to the virus.
The new order, issued on Wednesday, still requires kids to go into quarantine if they test positive or exhibit COVID symptoms. But if they're just exposed — say, by coming into close contact with someone at their school who tests positive for the virus — it's up to their parents whether they need to stay home from school and isolate.
Florida's surgeon general, Joseph Ladapo, was appointed by Governor Ron DeSantis just days ago, and the two share many of the same hands-off views about how to handle the coronavirus pandemic. Ladapo even wrote an editorial for the Wall Street Journal that questioned whether COVID-19 vaccines were safe for low-risk groups. The FDA has found that vaccines are safe and effective for all people ages 12 and over.
Ladapo held a news conference on Wednesday to announce his new order, where he said that he had weighed "both costs and benefits" when considering it.
"When kids are taken out of school, when they're kept out of school, it's extremely harmful," he said.
DeSantis has backed that up, saying the ultimate goal is to keep more kids in school. Forcing kids to isolate when they're healthy "is incredibly damaging for their educational advancement," he said at the news conference. "It's also incredibly disruptive to families throughout the state of Florida."
But you know what else is disruptive to kids' education and families? Being hospitalized with a dangerous, deadly virus. Considering Florida was seeing 55 children hospitalized with COVID per day just a few weeks ago, this rule seems like it flies in the face of what DeSantis and Ladapo say they want for kids. It also goes directly against CDC recommendations, which say even those who appear healthy should quarantine after exposure, because people with no symptoms can still spread the virus to others.
Carlee Simon, Superintendent of Alachua County Public Schools, said she was exasperated by Florida's anti-science rules.
"This rule is likely to promote the spread of COVID-19 by preventing schools from implementing the common-sense masking and quarantine policies recommended by the vast majority of health care professionals, including those here in Alachua County," she said in a statement. "The State is, in fact, doubling down on policies that may ultimately put students, staff and the entire community at greater risk."