NFL Rookie Donates First Game Check To Women Who Cook For His Team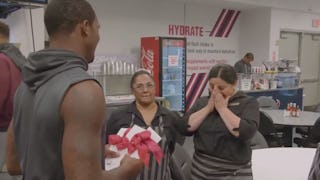 Image via Twitter/Houston Texans
The employees all lost homes to Hurricane Harvey flooding
The NFL has been dominating headlines lately, mostly because our president can't stop tweeting insults about the peaceful protests of some players during the National Anthem, but today's NFL-related story is a happy one.
A rookie quarterback donated his very first game check to three women directly affected by Hurricane Harvey. And if the video doesn't touch your heart, it's made of stone.
Deshaun Watson is a brand-new Houston Texan, and after his first start in an NFL game, where he performed well enough to help his team come close to upsetting the New England Patriots, he took his paycheck and spent it in the best way possible.
Watson gave every cent to three women who work in the Texans' stadium cafeteria serving the players food every day, all who lost homes due to flooding after Hurricane Harvey.
In the video, Watson walks down a hallway to the NRG Stadium cafeteria and presents the women with a check worth a reported $27,353, according to ABC News. The trio were visibly moved by his generous gesture as he told them, "For what you all do for us every day and never complain, I really appreciate you all, so I wanted to give my first game check to y'all to help y'all out in some type of way," he says. "Here you guys go."
Be still our hearts.
Watson just turned 22. An NFL rookie and former Clemson University star quarterback who worked most of his life toward achieving something only a handful of people ever get to do. And when he finally gets his reward, his first thought is to share it with the people who work hard behind the scenes ensuring he's ready to do his job.
The incredible move was not lost on Twitter with plenty of fans praising him for his kindness.
[tweet 913170189365256192 hide_thread='true']
Another detail makes this story even more touching. He was once on the receiving end of a Habitat For Humanity home made possible by his mom applying for it in order to get Watson and his three siblings out of public housing. It was that house that Watson says gave him a chance to get out of "difficult" surroundings and start focusing on his future goal of being in the NFL.
An added bonus? Former Atlanta Falcons RB Warrick Dunn's charity furnished the Watson family's new place. So it's easy to see where this rookie got the idea that he needed to do good in the world whenever he was able.
After giving the women their checks, Watson said, "Hopefully, that's good and that can get you back on your feet. And anything else y'all need, I'm always here to help."
Based on what we know of this amazing young man, that's by no means an empty promise.
This article was originally published on