OMG: The Cast Of 'Designing Women' Is Reuniting For A Table Read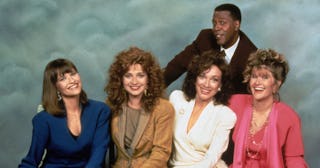 Fotos International/Getty
Fans of Designing Women, rejoice! The cast of the iconic series is reunited for a virtual table read
Tired of the daily deluge of bad news? Well, here's something good for a change: Sugarbaker & Associates is back in business! That's right; the Designing Women cast will come together again on Thursday and, let's be real, this little onscreen reunion couldn't have come at a better time. We need a little more fun in our lives right now!
Bonus: This online event benefits the important and highly relevant cause of supporting racial justice activism. Proceeds will help raise awareness and money for Color of Change, the nation's largest online racial justice organization, as well as World Central Kitchen's COVID-19 relief efforts.
As you well remember, Designing Women originally ran from 1986 until 1993, elevating it to icon status among us older millennials. It followed four women who ran a design firm in Atlanta, Georgia, along with their delivery-man-turned-eventual-partner: Julia Sugarbaker (Dixie Carter), Suzanne Sugarbaker (Delta Burke), Charlene Frazier (Jean Smart), Mary Jo Shively (Annie Potts), and Anthony Bouvier (Meshach Taylor).
Sadly, Carter and Taylor are no longer with us. But fans will get to see Smart and Potts reprise their beloved roles. Also, recurring stars Sheryl Lee Ralph and Scott Bakula will reprise their roles as Mrs. Sundemeyer and Ted Shively, respectively. So, what will they be acting out? The 1986 pilot episode.
As if this news wasn't enough to make your heart skip a beat, there's more. National treasure Leslie Jordan will be stepping in to voice Ray Don Simpson and Kyra Sedgwick will be stepping into the immortal role of Julia Sugarbaker.
After the table read, Potts and Smart will hold an exclusive Q&A with creator Linda Bloodworth-Thomason — who, it goes without saying, was the driving force behind Designing Women being such a groundbreaking series. In addition to the witty one-liners, the show tackled serious social issues such as AIDS discrimination, gun control, and racism. And it did so in a way that didn't feel like proselytizing. They simply made it part of the conversation.
You want deets on how to watch the table read now, right? It will be posted on the Sony Pictures Television Throw Back TV YouTube channel tomorrow at 2 p.m. ET. Happily, you can also watch Designing Women streaming on Hulu, IMDb TV, and Pluto TV. So, go ahead and binge-watch a few episodes to get back into the Sugarbaker (or Sugah-baker, as Julia would say) frame of mind before Thursday's table read.