Video Of Boston Marathon Winner Crossing The Finish Line Will Have You Sobbing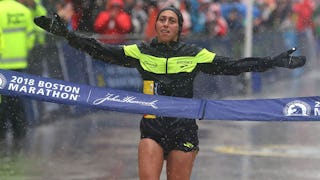 Image via John Tlumacki/The Boston Globe via Getty Images
"Desi" Linden not only won the race, but showed enough drive and sportsmanship to keep us inspired for the foreseeable future
Desiree Linden was a baby the last time an American woman won the Boston Marathon back in 1985. Now, at 34 years old, the Olympic long-distance runner not only won the oldest and best-known official marathon in the world, but accomplished one of her long-time dreams.
Linden finished the race in 2 hours, 39 minutes, 54 seconds — which is far from a great time for professional runners, but was more than enough to win in the terrible weather conditions that included pouring rain, wind, and low temperatures.
Try not to cry as you watch her cross the finish line and run into the arms of her husband and coach.
Linden competed in the 2012 and 2016 Olympics, finishing seventh in Rio two years ago. She placed second in the 2010 Chicago Marathon and the 2011 Boston Marathon — in the latter, she lost by just two seconds.
The race started poorly for Linden, who told Today that she didn't even think she would finish the competition at the start: "The weather was brutal. Early on, it didn't feel like it was going to be my day. My hands were freezing. My body was tightening up."
But around Mile 21, Linden left the pack behind, took the lead from Ethiopian runner Mamitu Daska, and spent the last five miles of the race widening her lead.
Linden said her success was all about "showing up," and her career (and the day of the event itself) certainly reflects that. She wrote "6th time's the charm" on her Twitter account alongside a picture of the award ceremony.
"I don't have the right words. I'm thrilled," Linden told NBC Sports right after the race, looking shocked, wrapped in a blanket, and shivering. "It's supposed to be hard. I was just lucky to get it done."
Her pinned Tweet might be a good inspirational quote for a Post-It note on your bathroom mirror or to get tattooed on your face forever:
But the story gets even better. Linden engaged in next-level sportsmanship during the marathon, offering to block the howling wind for fellow American runner Shalane Flanagan (who wowed the world herself in November at the Chicago Marathon) and even stopped to wait for Flanagan when she needed to take a bathroom break half way through the race so her friend and teammate wouldn't fall behind the pack. If that's not #SquadGoals, what is?
"We didn't go to the bathroom together in pairs or anything like that," Linden told Today. "But I did slow down and looked back and kind of made sure we could work together to make it back to the group, which hadn't really pulled away. We just needed help to get each other back to the group and block the wind, so I was happy to do it."
Both encouraged the other throughout the race.
"I think I grabbed her shoulder and was like, 'Are you OK?' And she was like, 'Nah, I just don't feel good,'" Flanagan told Good Morning America. "But I'm so happy she just stuck with it. Kind of having each other and having a great American field really fueled us to keep going."
All in all, American woman claimed seven of the top eight spots in the race, with Flanagan taking seventh. The second-place winner was full-time nurse Sarah Sellers, a virtual unknown in the field, who doesn't have an agent or sponsors — if you can even handle another inspirational story about women right now. Congratulations to every single one of them.
This article was originally published on