'The Devil Wears Prada' Is Being Turned Into A Musical Because We CAN Have Nice Things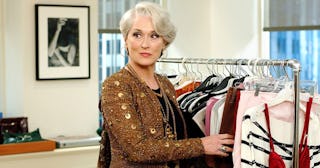 Twentieth Century Fox
A musical featuring Miranda Priestly opening next summer? GROUNDBREAKING
Everyone's favorite fashionable movie, The Devil Wears Prada, is officially getting the musical treatment. If you find yourself planning a Chicago trip next year, you're going to want to pencil in a trip to the James M. Nederlander Theatre in summer 2020. Because who would want to miss seeing something that's bound to be magnificent?
The Chicago run of the show will be a pre-Broadway engagement before it hits the Big Apple. The much-loved source movie, which starred Meryl Streep and Anne Hathaway in the roles of Miranda Priestley and Andy Sachs, was based on Lauren Weisberger's bestselling 2003 novel of the same name.
The story — in case you don't have all the Devil Wears Prada quotes and monologues memorized — surrounds Andy, a wannabe journalist who finds herself working as an assistant to Miranda Priestly, the Anna Wintour-ish and tyrannical editor of a high fashion magazine. She goes from wearing frumpy blue sweaters (sorry, cerulean) and ill-fitting skirts to raiding the magazine's designer closets and in no time, finds herself begrudgingly respected by Priestly.
Also noteworthy characters: Nigel, Miranda's long-suffering colleague (played by the incomparable Stanley Tucci — so whoever is handling this character on stage better bring it), Emily, Miranda's first assistant played (hilariously and adorably) by Emily Blunt, and Nate, Andy's boyfriend, played by Adrien Grenier in an extremely polarizing role (Is HE the true villain of the movie by not supporting Andy's dreams? Or is Andy just a total pushover and a sucky girlfriend?).
Though beloved movies like Mean Girls and The Notebook have recently been turned into musicals, The Devil Wears Prada is absolutely perfect for the stage. The costumes and characters alone are enough to make it a live theatre experience worth watching — but raise your hand if you can't wait to hear the original score for this masterpiece.
Tony winner Anna D. Shapiro will helm the project as its director, Paul Rudinick is producing the book, Shaina Taub is responsible for lyrics, and — speaking of the original score — Elton John has been tasked with creating the show's music. ELTON. JOHN. There's simply no way this musical will be anything but amazing. It's just unfortunate we all have to wait nearly a year before we can see or hear it.
As of now, no casting news has been announced, and heaven knows this show has some big casting shoes to fill (Meryl Streep, y'all — enough said).
Single tickets are not yet on sale; group purchases can be made through Broadway in Chicago at 312-977-1710 or www.broadwayinchicago.com. The musical's official website is devilwearspradamusical.com.
This article was originally published on