'Dexter' Is Coming Back So You Can Stop Complaining About That Ending
by Madison Vanderberg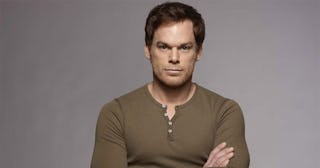 Showtime
Dexter is coming back for a final 10 episodes
Dexter, everyone's favorite show about a serial killer, is back, baby. To jog your memory, Michael C. Hall starred as the titular Dexter, a serial killer who only killed bad people. The Showtime series ran for eight seasons, ending in 2013, and since the series finale didn't go over so well with fans, Hall and the show's original creator are back to hopefully make things right.
According to The Hollywood Reporter, Showtime gave the green light to a 10-episode Dexter limited series that will apparently pick up where the show left off seven years ago. The fans did not like the original ending of the show, which — spoiler alert — ended with Dexter essentially faking his own death and moving to the middle of the woods to become a lumberjack, presumably putting his murdering days behind him.
The "lumberjack ending" also did not go over well with the show's original creator Clyde Phillips, who left the series after season 4, and told E! News that if he was still running the show he would have written an ending where Dexter is executed for his crimes and all the "people that Dexter killed" watch him from the gallery. Yikes. Also, Hall revealed in a Reddit AMA that he thinks Dexter will get bored of his "self-imposed exile" in the woods eventually and said, "I imagine he's got a pretty serious itch he's aching to scratch."
Well, the good news for fans is that Hall and Phillips are both back for the revival, so maybe Dexter fans will get the, uhm, gruesome ending the show deserves. Perhaps Dexter is going to ditch the woods and be like, Nah, I wanna start killing again.
Showtime said in a statement to The Hollywood Reporter that "we would only revisit this unique character if we could find a creative take that was truly worthy of the brilliant, original series. Well, I am happy to report that Clyde Phillips and Michael C. Hall have found it, and we can't wait to shoot it and show it to the world."
https://www.instagram.com/p/CGIdHmgn8Ls/
The only official clue we got from Showtime as to the content of the show is this short teaser covered in blood splatters (remember, Dexter's job — when he wasn't murdering — was working as a blood-spatter expert for the police). The eerie teaser says, "Being away has been murder." Ohhhhh.
https://www.instagram.com/p/CGVimcGHOZO/
Needless to say, people are excited.
The 10-episode limited series event will reportedly land on Showtime next fall, so if weirdly handsome serial killers are your jam, get excited!