Model Re-Creates Fashion Ad To Prove All Bodies Should Be Celebrated
by Cassandra Stone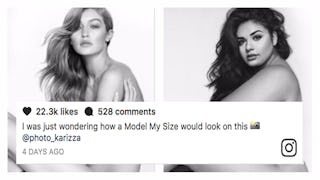 Image via Instagram/Diana Sirokai
Her side-by-side comparison is absolutely stunning
If there's one thing every industry could use a little more of, it's diversity — especially the fashion industry. Especially when it comes to size and deciding which bodies should be celebrated. Which is why plus model Diana Sirokai copied a popular Stuart Weitzman fashion ad — to prove all bodies deserve a chance in the fashion spotlight.
Sirokai's most recent Instagram post shows a stunning recreation of the ad, which originally starred model Gigi Hadid. If nothing else, it's a brilliant way to showcase just how much better society can do with marketing to various body types.
"I was just wondering how a Model My Size would look on this," Sirokai captioned. She doesn't need to wonder anymore; she looks downright flawless.
Also, Stuart Weitzman is a shoe designer. He sells lines of shoes. Last time I checked, shoes fit feet. Not bodies. So why shouldn't we see women of diverse sizes in — at the very least — shoe advertisements?
Many people were quick to share their support, because if nothing else — representation matters.
Not wanting to be seen as reflecting negative on Gigi Hadid for being tall and thin, Sirokai clarified she just wanted to see more women like herself in ads like this.
This isn't the first time she's put her own spin on a popular celebrity image. Earlier this year, she shared a side-by-side image of herself in a white bathing suit next to Kim Kardashian.
There's no perfect size or body type. No one woman's body is greater or better than another — we can all look and feel beautiful no matter what impossible societal standards dictate.
Here's hoping we see more models like Diana Sirokai in mainstream modeling images. Size shouldn't matter as much as realistic representation does.
https://www.instagram.com/p/BdC_GFUnfCy/?taken-by=dianasirokai
This article was originally published on