These Hot Dads At Disneyland Will Be Your New Instagram Obsession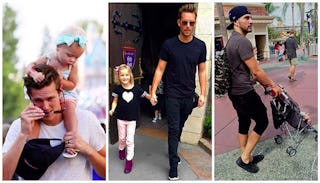 The DILFS of Disneyland Instagram account showcases attractive dads and adorable kids at the 'happiest place on earth'
Between the rides and entertainment there's already a ton to fit in during a day at Disneyworld, but thanks to the super popular Instagram account DILFS of Disneyland you can add, "hot dad people watching" to your already packed to-do list. Gaston is going to be so pissed when he hears about this.
The account has over 350,ooo followers and features highly attractive dads and their adorable offspring at Disneyland and California Adventure. While the occasional celeb like Ben Affleck or Scott Disick have made an appearance, it's mainly everyday dads who just happen to be really really ridiculously good looking, and their cute kids. Put them together and the results are … magical.
A man that can rock those sunnies, that jacket and a baby carrier? Hot.
He's just as excited about the new Cars Land as his kids.
He's working that trolley track like a runway.
Can't decide who's cuter here, the dad or the baby. On second thought, it's the baby. Check out those toes!
With biceps that big how fast do you think this tea cup will spin? Not trying to objectify dad here, just asking because we don't want Junior to lose his churro all over dad's hat.
That pose, her hat, those shoes — this picture is the essence of awesome.
Whimsical castle backdrop? Check. Adorable father/daughter moment? Check. It's like a moment out of an actual fairy tale.
Okay that's it, where are the suitcases? We're going to Disneyland.
This article was originally published on