Disney Announces Live-Action 'Aladdin' Cast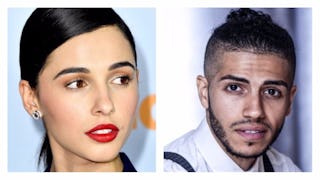 Image via Instagram
Disney gets it right with a diverse crew of actors
After the huge success of Emma Watson's Beauty and the Beast, Disney is going full steam ahead with plans to remake their classic animated movies as live-action spectacles. Up next is Aladdin, and at the recent D23 Expo, the cast was announced.
They are appropriately diverse.
Variety reported on the names being tapped to recreate one of Disney's most beloved movies, and while the two leads aren't exactly household names, they're definitely not lacking in the looks department.
https://www.instagram.com/p/BRqlbWeFQqa/
And Will Smith is playing the genie! His super-stardom is sure to rub audiences the right way. (Get it?)
Naomi Scott, fresh off this summer's Power Rangers movie, will play Princess Jasmine, and newcomer Mena Massoud will take on the title role.
Twitter was aflame with hot takes on the new cast, including some skeptical thoughts about how Naomi Scott's background (her mother is Indian) lines up with the character she's playing.
https://twitter.com/jetpack/status/886305532012900352
They seem good with Aladdin, though.
https://twitter.com/jetpack/status/886299104887750656
And despite some regret that Robin Williams isn't around to reprise the role that he made famous, people are okay with the Fresh Prince stepping into his slippers.
Besides, as Buzzfeed discussed in their article on Disney's trouble casting the movie (trouble the studio has obviously overcome), no one's exactly sure where Aladdin takes place.
Regardless, the diverse cast is a big step up from Hollywood's previous efforts, wherein Jake Gyllenhaal, a white man, was cast as the Prince of Persia.
After previously giving the live-action treatment to Cinderella, The Jungle Book, and the aforementioned Beauty and the Beast, along with Aladdin, Disney has plans for live-action versions of The Little Mermaid, The Lion King, Mulan, and even Dumbo.
Given that these are classic movies with beloved characters, the studio is sure to be careful with the casting.
But it's the movies that feature minority characters that will be under the most scrutiny, especially in the face of recent controversies like 2016's #OscarsSoWhite debacle. There's no getting that genie back in the bottle.
Thankfully, 2017 is a whole new world, and with Aladdin's casting news, it's so far, so good.
This article was originally published on