Fireworks Are Returning To Disney Parks & The Internet Is Thrilled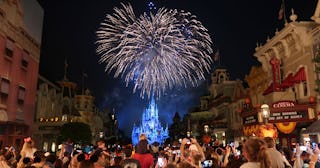 Gary Hershorn/Getty
Disneyland and Disney World's firework displays return to both parks next month to kick off the fourth of July
As vaccines roll out and COVID-19 cases drop around the country, things are starting to return to ~normal~ at both Disneyland and Walt Disney World. Whether you like it or not, masks are no longer required for vaccinated folks at both Disneyland and Walt Disney World and social distancing is over, but something that everyone can get behind is that fireworks are back, baby!
Both parks will bring back fireworks starting in July.
Starting July 1, 2021, Walt Disney World is home to two different firework displays. Magic Kingdom Park at Walt Disney World will be home to the "Happily Ever After" fireworks display against the backdrop of Cinderella's castle, and over at Epcot, guests can enjoy the "EPCOT Forever" light and firework show. At Disneyland, fireworks start on July 4, 2021, with "Mickey's Mix Magic." The light display at Disneyland seems to be a majority of "state-of-the-art projections, show lighting and lasers" that culminate in a big firework display.
When the parks reopened during the pandemic, fireworks were suspended due to social distancing concerns. According to Disney, the decision to bring them back was made "as we continue to see more communities adjust and ease COVID-19 guidelines."
"A Disney tradition since 1957, fireworks shows are what Walt Disney called the perfect 'kiss goodnight' at the close of a magical day, and this summer the skies above Disney theme parks will sparkle with color once more," Disney shared in a blog post. "Beginning in July, just in time for the nation's Independence Day celebrations, our incredibly popular nighttime fireworks spectaculars are returning to Disney parks!"
I love going to Disneyland as much as the next guy, but I was not aware that park fireworks are a big. damn. deal. The internet is currently very emotional about the news, and honestly, it's lovely to see some joy on the timeline.
"I'm not even going to disney any time soon but i cried in my car when i heard fireworks are back," wrote one fan.
"Catch me crying on Main Street when I get to see Disney fireworks for the first time in a year and a half," shared another.
It's not just a big deal for park-goers, as the nightly firework displays can be watched (for free) by anyone who lives in the neighborhood.
Scroll for more wholesome Disney firework enthusiast content.
When the Disney parks closed during the pandemic, the company released a video version of their iconic firework display. That video has been viewed over six million times and is still available online to watch.
Disney fireworks are back, nature is healing.