'Beauty And The Beast' Features Disney's First Openly Gay Character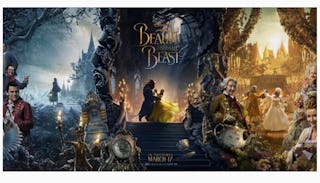 Image via Instagram.
The live-action remake will be released March 17
Just when we thought our excitement for the new Beauty and the Beast peaked, director Bill Condon released a major secret that has us cheering. The live-action remake will feature Disney's first openly gay character. Le Fou, played by Josh Gad, comes to terms with his sexuality in the film. Yes, yes, 1,000 times yes.
"LeFou is somebody who on one day wants to be Gaston and on another day wants to kiss Gaston," Condon told Attitude magazine. "He's confused about what he wants. It's somebody who's just realising that he has these feelings. And Josh makes something really subtle and delicious out of it. And that's what has its payoff at the end, which I don't want to give away. But it is a nice, exclusively gay moment in a Disney movie."
Le Fou has a more supporting role in the film with his primary purpose being Gaston's sidekick. But Disney's decision to address his sexuality will make the character a favorite among fans who've been waiting decades for more inclusivity in their favorite films. Attitude editor-in-chief Matt Cain called it a watershed moment for LGBT representation. "By representing same-sex attraction in this short but explicitly gay scene, the studio is sending out a message that this is normal and natural – and this is a message that will be heard in every country of the world, even countries where it's still socially unacceptable or even illegal to be gay."
Cain raises a significant point. Disney is everywhere. The animated version was the third-highest-grossing film of 1991 and inspired a Broadway musical that ran for 13 years. By finally taking a stance and featuring LGBT characters Disney has the potential to make kids, adults, and families across the world feel accepted and included. "It's a step in the right direction, and I applaud Disney for being brave enough to make it," Cain explained. "And in doing so hopefully helping to change attitudes and bring about real social progress."
Many fans thought of Disney's mega-hit Frozen as a metaphor for coming out and self-acceptance. Since there's an extreme lack of LGBT representation in books, films, and television series fans started #GiveElsaAGirlfriend, which went viral. While we'll have to wait and see if Disney gives us our first LGBT princess, it's nice to the see gay characters hitting the screen now.
The long-awaited live-action release opens on March 17 and stars Emma Watson, Kevin Kline, and Dan Stevens.
This article was originally published on