Disney Released A Flashback Collection And It's Pure 90's Magic
by Thea Glassman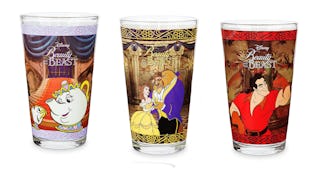 Image via Disney
Disney's new Flashback Collection is literally a 90's dream come true
What do you get when you mix Disney with the 90's? That would be the Flashback Collection, a new product line packed with goodies featuring literally all of your favorite animated characters. Big bonus points: everything is ridiculously cute and vintage.
RELATED: These Adorable Baby Jean Jackets Will Make You Want To Match With Your Mini
The world is a scary, weird place right now so there's pretty much nothing more comforting than diving back into the cozy world of Disney. First up, we've got keychains that look exactly like VHS tapes of Disney movies. *Sigh.* Remember VHS tapes? Let's bring back all the Blockbusters, please.
Speaking of VHS tapes, you should absolutely carry this clutch featuring Beauty and the Beast on the cover. It's very fun, fashionable, and nobody better tell you otherwise.
It's officially time that chunky, multicolored ballpoint pens make a comeback. Let's kick that trend back off with these Disney movie-themed pens, which will make your 90's loving heart very, very happy.
I don't care what anyone says, jean jackets with patchwork will never go out of style. Especially when it includes Aladdin patchwork. Now all you need are those pins you used to stick to your school backpack (it was COOL then), and you're good to go.
While we're on the subject of pins, I'd like to turn your attention immediately to these Hercules goodies. Every single one would look very cute on your purse. Or your new Aladdin jacket.
Nothing will make a 90s kid happier in the morning than drinking orange juice out of these extremely adorable glasses. They're bright, colorful, and feature different characters from Beauty and the Beast (sup Gaston). Win-win-win.
Okay, so, you can give this ridiculously cute and retro Goofy lunchbox to your kid OR you can keep it for yourself. Leaning towards the latter.
Warning: if you buy this Lion King desk clock, there's a strong chance that you will feel tempted to start singing "Circle of Life" loudly, for the rest of your days. And that's totally, totally okay.
Go forth and get all your nostalgic Disney loving on. The 90's are calling and they want you to rock all their cool gadgets.
This article was originally published on