CEO Says Disney Will Likely Leave Georgia If Anti-Abortion Bill Becomes Law
by Thea Glassman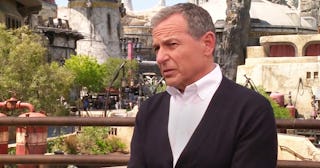 Reuters
Disney has added itself to a growing list of film companies that likely won't film in Georgia once the "heartbeat" bill goes into effect
This month, Georgia Gov. Brian Kemp signed a bill that bans abortions after a heartbeat is detected, which can be as early as six weeks. This extreme assault on women's reproductive rights is causing a backlash in the film industry. Production companies are starting to announce that they will likely no longer be filming in Georgia because of the bill, and now, Bob Iger, the chief executive of Disney, is speaking out about the company's future in the state should the ban go into effect.
Iger told Reuters that he's been tracking the abortion ban "very closely" and he "rather doubt[s]" Disney will continue shooting in Georgia once the bill goes into effect. "I think many people who work for us will not want to work there, and we will have to heed their wishes in that regard," he explained.
So, why is this so significant? Disney has brought a ton of money into the state, shooting massive blockbuster hits like Black Panther and Avengers: Endgame there.
Streaming giant Netflix has also joined the bandwagon of kinda, sorta saying that they won't continue to film in Georgia once the legislation has gone into effect. Netflix chief content officer Ted Sarandos told Variety that the company will "rethink [its] whole investment in Georgia" once that happens.
"We have many women working on productions in Georgia, whose rights, along with millions of others, will be severely restricted by this law," Sarandos said. "It's why we will work with the ACLU and others to fight it in court. Given the legislation has not yet been implemented, we'll continue to film there, while also supporting partners and artists who choose not to. Should it ever come into effect, we'd rethink our entire investment in Georgia."
And there's a whole lot more where that came from. The Duplass Brothers Productions, Killer Films, and Blown Deadline Productions have all pledged to stop filming in Georgia because of these new proposed restrictions on women's rights. "Don't give your business to Georgia," Mark Duplass tweeted. "Will you pledge with me not to film anything in Georgia until they reverse this backwards legislation?"
Also, fifty actors signed a letter pledging to not to shoot in Georgia, including Alyssa Milano, Laverne Cox, Don Cheadle, and Amy Schumer.
"This dangerous and deeply-flawed bill mimics many others which have already been deemed unconstitutional," the letter read, per Deadline. "As men who identify as small-government conservatives, we remind you that government is never bigger than when it is inside a woman's body or in her doctor's office."
Ilana Glazer also recently noted that she pulled out of filming in Georgia, and pointed out that life is going to be a lot harder for local folks who work in the industry there.
"It sucks because the people of Atlanta are stoked and hustling, and the city is just groovin' on making so much stuff," she said. "I was like, 'I don't want to shoot there. Film and TV is such an advertisement for the city and for the state that it's in, and I just don't want to be there and support it."
There really are no winners here (except for the male legislators who got their way restricting women's bodies). A lot of people in Georgia will be out of work and the economy could take a significant hit. According to AJC, there were 455 productions in Georgia last year and a whopping $2.7 billion in direct spending.
Here's hoping that Georgia legislators sit up and take notice that so, so many people are concerned and disgusted by their actions.