This Is The House Of Your Dreams -- If You're A Disney Superfan
by Thea Glassman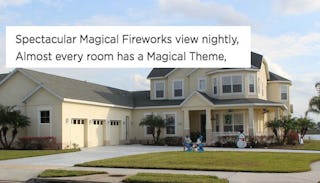 Image via Zillow
Literally every inch of this house has a Disney theme
Calling all Disney superfans. There's currently a house on the market that's located right outside of Walt Disney World, which means that it gets a private Magic Kingdom fireworks show literally every single night. Oh yeah, and it's also filled to the brim with Disney decorations so you can pretty much feel like you're Minnie Mouse all day, every day.
RELATED: Best Disney Toys To Keep Kids Living Their Most Magical Lives Right At Home
Before you pack up all of your family's belongings without their permission and plonk your credit card down, here's the whole deal. This 4,800-square-foot, seven bedroom house is on the market for $888,000. It includes magical-themed rooms, six bathrooms, an enormous game room, and a lake just outside the house. Non-Disney fans will find the decor, ermmm, perhaps a tad ostentatious. True Disney fans will want to weep quietly in the corner from the sheer ~magic~ of it all.
Let's go on a tour, shall we?
The front of the house looks fairly innocuous.
But then you get to the front porch, and the magic starts to begin.
First up, we've got the living room, which features an enormous picture of Mickey's face and so, so many Disney figurines — which is great for your kids to look but not touch. Fun!
The dining area features Mickey Mouse stools and even more Disney-themed figurines.
Then things start to get a little…intense. The house has a bathroom that is decorated entirely in Tinker Bell theme. It's cute but also, like, do you really want Tink watching over you while you're on the toilet? That's supposed to be your one moment of peace.
Your Disney pals pretty much surround you everywhere. Super fun that the Genie hangs from the ceiling during the day. Probably super creepy at night.
There's not a little Anna or Elsa lover alive who wouldn't adore this Frozen-themed bathroom, though.
As for this Goofy green room, maybe it'll grow on you?
If you're not into dozens and dozens of creepy Christmas collectibles taking up an entire room, maybe this isn't your jam. If you are, however, perhaps these can be included in the sale negotiations?
Not gonna lie, this Belle-inspired Beauty and the Beast bedroom is squeal-worthy. Sorry not sorry.
Regardless of the Disney decor, it call all be overlooked for this perfect view of the lake.
This house probably won't be on the market for long, so if you have a wad of money, feel like moving to Florida, and want to live in an actual Disney dream with your family, act fast.
This article was originally published on