Disney Dropped The CUTEST Rainbow Merch For Pride Month
by Thea Glassman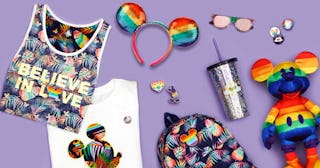 shopDisney
Disney is selling cute rainbow merch for a really great cause
It's LGBTQ Pride Month and Disney is celebrating by releasing all sorts of rainbow-themed goodies, including cute hats, pins, and sparkly tumblers. The best part? Some of the proceeds go to a really great cause.
Disney has partnered with the Gay, Lesbian and Straight Education Network this month to debut their new pride collection, which is a truly a dream come true for Mickey Mouse lovers everywhere. Ten percent of all proceeds go to GLSEN, an amazing nonprofit that helps create safe and inclusive school environments for LGBTQ youth.
"At GLSEN, we want every student, in every school, to be valued and treated with respect, regardless of their sexual orientation, gender identity or gender expression," the organization explained in their online statement. "We believe that all students deserve a safe and affirming school environment where they can learn and grow."
Okay, so, it's time to get shopping and support this incredible cause. Regular Mickey Mouse ears are great and all but they really don't hold a candle to these sparkly, rainbow Mickey Mouse ears.
And speaking of sparkle, you're definitely going to want to get your hands on this tumbler. Hellloooo rainbow-y, sparkle-y cuteness.
Also, you can rock your LGBTQ pride and your Disney devotion with this bright, colorful Mickey Mouse pin.
And there's a whooooole lot more where all of that came from. Like this sequined headband we need immediately.
And these rainbow Mickey knee socks.
How about stashing your most important treasures in this tropical-themed backpack with a rainbow Mickey proudly displayed on it?
Oh, and did we mention there's a tank to match the bag? It says "Believe in Love" and we do, because we literally love all of this rainbow cuteness.
These shades will top off any Pride Month look with multi-colored style.
And you can't hit the check-out without this extremely fun Mickey tee.
Or this adorable rainbow plush Mouse.
If you want to get even more of your rainbow pride fix, head over to Target. They're donating $100,000 to GLSEN and, for the seventh year in a row, launching their campaign #TakePride, which includes a line of rainbow-themed tees, tanks, swimwear, accessories, and kids clothes.
"We're making our message loud and clear," Laysha Ward, executive vice president and chief corporate social responsibility officer, said in a statement. "Target proudly stands with the LGBT community, both as a team member and team player through all that we do – from our volunteer efforts to our long-standing partnerships with groups like Family Equality Council and Gay, Lesbian & Straight Education Network, to the very products we carry in our stores and online."
Here's hoping that other companies see the great steps Disney and Target are taking and follow their lead. Happy Pride month!