People Are Upset That Disney Cast A Black Ariel, Because Of Course They Are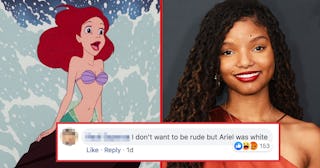 Disney, Jamie McCarthy/Getty and Facebook
The controversy around the casting of the next Disney live-action remake is why we can't have nice things
By now, you've surely seen the news that Disney has cast the starring role in its upcoming live-action remake of The Little Mermaid. If you ask me, the casting couldn't be more perfect — Grown-ish star Halle Bailey got the role, and she will be a truly incredible Ariel.
"After an extensive search, it was abundantly clear that Halle possesses that rare combination of spirit, heart, youth, innocence, and substance — plus a glorious singing voice — all intrinsic qualities necessary to play this iconic role," Director Rob Marshall said about the choice. Couldn't agree more. Bailey is one half of the singing duo Chloe x Halle, and that powerhouse voice is going to do something really special to "Part of Your World." I for one cannot wait to hear it.
Like, we love this way too much.
The internet, on the other hand? Well, if there's anything the internet does well, it's get really pissed off for no reason. In this case, there's a ton of racist hate being tossed at Bailey and Disney because a black Ariel is just not something some people are ready for, I guess.
Those are some of the more subtle complaints. It gets worse.
Um, actually, Ariel was a fish. In an animated fairytale. While the Little Mermaid book was set off the coast of Denmark, the original movie's setting was pretty ambiguous — from the landscape, you can tell it was definitely not Denmark, but there was never any clear indication about where it actually was. Regardless, Ariel was from a fictional kingdom in the ocean so I kind of can't believe I'm even writing any of this right now. If all these people are so upset about a made-up woman from a cartoon fairytale being cast as someone with dark skin, they're gonna be real upset when they find out Bailey isn't actually a mermaid.
There's also a lot of criticism surrounding Bailey's hair because the animated version of Ariel was iconically a redhead.
I'm a natural redhead, and when I was a little girl, Ariel was my favorite princess because she looked like me. As an adult, I'm not blind enough to my own privilege to be upset about this, like this is some sort of ginger erasure going on. There are a ton of characters in media and pop culture who look just like me. Brown and black girls deserve to see themselves on screen too, and to see that princess stories are for them too, not just white girls. I remember how it felt to see myself on that screen, and I wouldn't take that feeling away from any little girl. This casting is incredibly important for representation and I am here for it.
To all my fellow redheads: The old Ariel isn't being struck from the earth. She will still exist and she will still have red hair. Check your privilege and take a seat.
Now can we stop being racist and focus on the actually important news, which is that Lin-Manuel Miranda is co-writing the new music for the movie? That's what matters here along with the undoubtedly stunning performance Bailey will deliver. Internet, turn off your outrage and focus on the good in the world.
Update: A week after the initial news of the casting, Disney's Freeform network responded to the backlash in a truly epic way. Addressing their statement as, "An open letter to the Poor, Unfortunate Souls," the statement read:
"Yes. The original author of 'The Little Mermaid' was Danish. Ariel…is a mermaid. She lives in an underwater kingdom in international waters and can legit swim wherever she wants (even though that often upsets King Triton, absolute zaddy). But for the sake of argument, let's say that Ariel, too, is Danish. Danish mermaids can be black because Danish *people* can be black. Ariel can sneak up to the surface at any time with her pals Scuttle and the *ahem* Jamaican crab Sebastian (sorry, Flounder!) and keep that bronze base tight. Black Danish people, and thus mer-folk, can also *genetically* (!!!) have red hair. But spoiler alert – bring it back to the top – the character of Ariel is a work of fiction. So after all this is said and done, and you still cannot get past the idea that choosing the incredible, sensational, highly talented, gorgeous Halley Bailey is anything other than the INSPIRED casting that it is because she "doesn't look like the cartoon", oh boy, do I have some news for you…about you."
You can now watch the Little Mermaid (1989) and other Disney classics on Disney+ for $6.99/month. Sign up now for your 7-day free trial.
Related: 100+ Magical Disney Quotes That Will Make You Wish Upon A Star
This article was originally published on